I begin this post from a small mud room in Nouakchott, Mauritania, where I'm currently CouchSurfing with a German/Algerian couple around my age. There's a scotch-taped laundry hanger to my right, empty except for a brown and white checkered kitchen towel donning pictures of pears, cherries, and kiwis, and a green plastic bin filled with shoes to my left. The room is a mud room in the American sense–a place to put your stuff–instead of in the African sense, which I suppose would mean a room actually made of mud. It's almost noon on the day after Christmas.
I left Dakhla, the last town in Western Sahara on the road south, on December 19th. The evening before, as I was about to head back to Campground Moussafir (where I was then staying), I chanced upon an American, who happened to be from Jenkintown, PA. His name was Matt, I think, an ex-pat musician living in Dakar who had just played a music festival in Southern Morocco, and he was heading to Nouadhibou the following morning. "We have a bus, and you'll be traveling with the band," he said. "Just be back at this hotel at 6:00am tomorrow, and we'll get going."
I woke the following morning around 5:30am, exited the gate, and took to the road just before 6. I'm not sure what my plan was, really; it was too early for taxis to be out, and there weren't many cars either. The hotel was roughly 8km away, and I was late. The plan quickly morphed into a sort of walking/hitchhiking hybrid, and I took off in the direction of town.
Thumbs, waving hands, a headlamp shone through the dash and screams of "THANKS ASSHOLE, I NEED SOME HELP" after a passing car. Nothing. There was even one cab that drove by, an empty cab, but being too frightened by the shadowed, frantic phantom prodding through the black, he drove right past.
I walked for about 4km, and was eventually picked up by a policeman. He said it was forbidden to give rides in the police car–interdit, he stressed–but made a gracious exception for the exasperated and in-a-hurry yours truly.
Minutes later, I was at the hotel and out of luck: Matt and the traveling band had already left.
Next, I walked to the Sahara Hotel as instructed, in search of a taxi to the border. I found one within minutes, and two hours later, myself, our Mauritanian driver, a Senegalese guy around my age, and a Moroccan family of 4 were barreling southbound through the final stretch of Western Sahara.
The road itself was good, a well-kept tar pavement, and surrounded by desert–ugly desert. Grainy sand, stubbly bushes, small rocks and even broken glass. Conversely, the shoreline was striking, lined with loopy sandstone cliffs, and made even more attractive by the lenses of the fake Ray Bans I bought in Casablanca, which seem to give everything a vibrant, pinkish hue.
En route to the border, we passed several police checkpoints; 4, in fact. The officers, in their laughably overdone, almost Super Troopers outfits–tan uniforms, white leather belts and gun holsters, Aviator glasses and fully brimmed hats–coolly exit their patch of sweaty shade and ask to see passports. Since I'm white, I'm always brought out of the car, and questioned about my trip.
"Where are you going? Why are you going there? Where will you stay? Are you in the military?"
Generally, I tell them about my trip, they smile, and send me on my way. The driver, on the other hand, is a different story.
At each checkpoint, the driver had to exit to car, fill out a form, and thoroughly explain to the officers what he was transporting and why. To my knowledge, we just had passengers, their luggage, and I believe some fruits and vegetables heading for sale in Mauritania; there should have been no problem. The officers would keep us waiting at each checkpoint, somewhere between 10 and 45 minutes, and usually demand a "fee" for effectively not being "up to code" about some arbitrary something. Our driver paid 3 bribes, feeling that the money was less significant than the hassle.
At the border, the waiting continued. It all seemed like some senseless bureaucracy even a 6th grader would scoff at: "Why is there so much wasted time?" I showed my passport to at least 7 people, in at least 7 different places, and in total, it took us 3 hours to cross the Moroccan border and exit the country.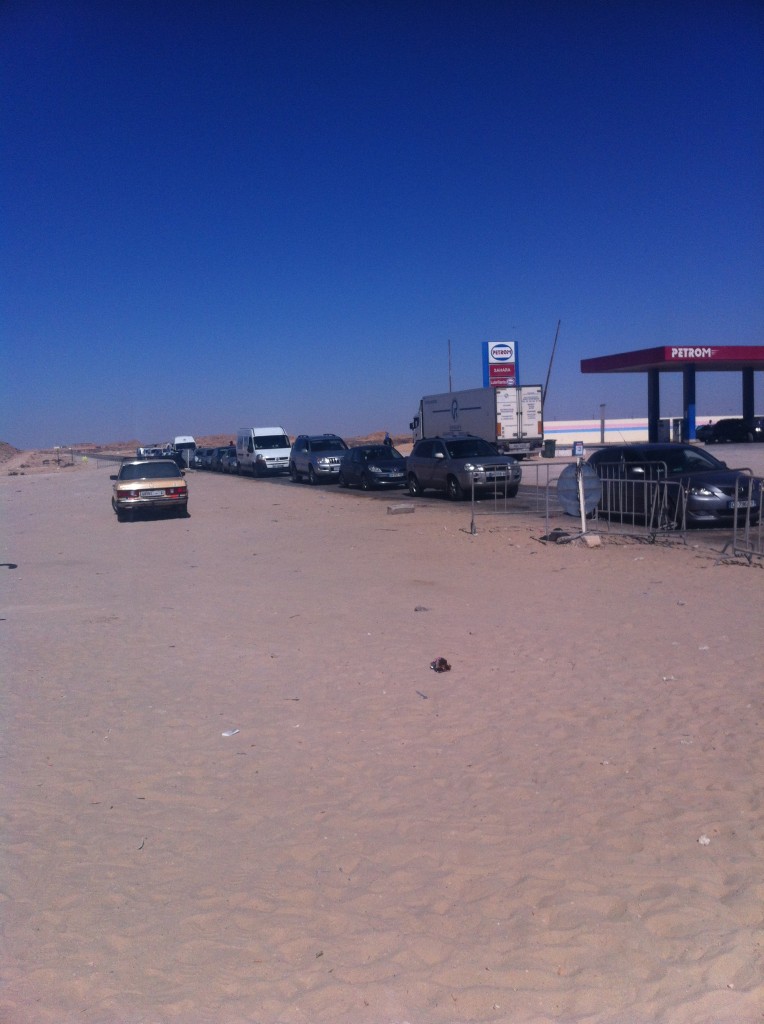 Between the two borders, there is what is referred to as "no-man's-land": 2 kilometers of unpaved sand and rock that belongs to, nor is maintained by, neither country. It also serves as a graveyard for cars and, strangely enough, refrigerators. Furthermore, there are live mines in the area, mines that detonate when you touch them, but simply following the tire tracks made by previous passers is a pretty safe bet against explosion. Our car got stuck in the sand once, but with the help of a few passer-by's, we were able to push it out in little time.
Crossing the Mauritanian border took about an hour. I showed my passport to several different people, and had to tell the border police exactly where I'd be visiting in the country, and when I thought I'd be leaving. Neighboring Mali is very unstable right now, with a strong Al Qaeda presence in the north, and yes, it's spilling a bit into Eastern Mauritania; the police are meticulous with safety of the tourists. The border was crossed in an hour, and I was finally in Mauritania.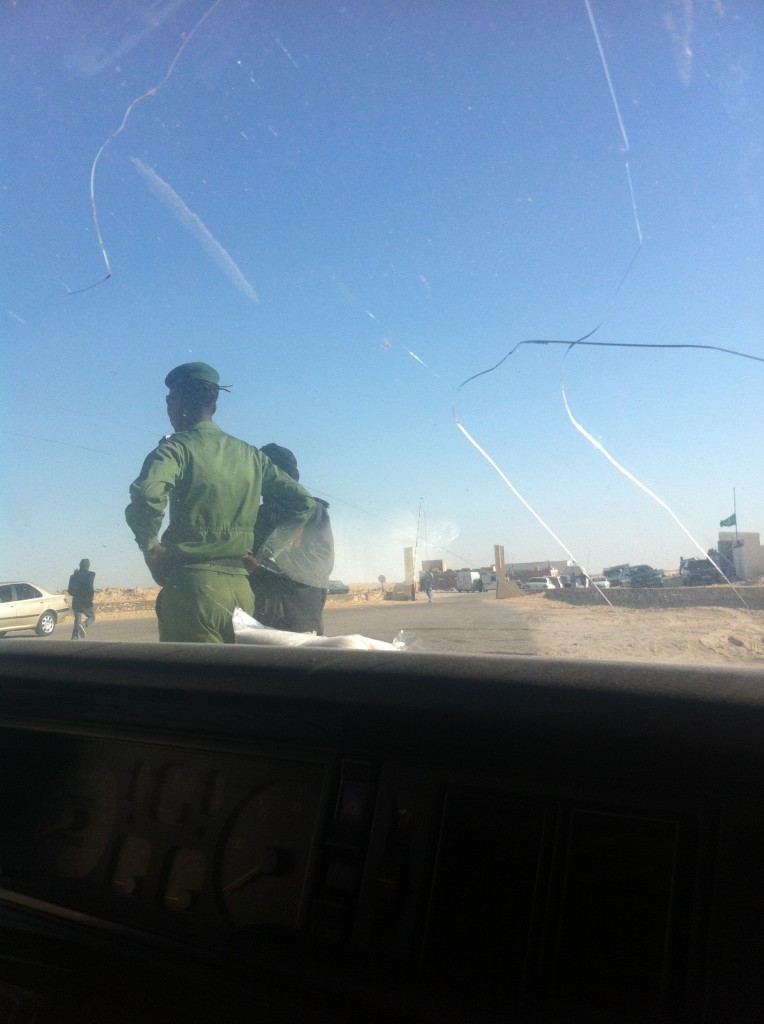 Once over the border, our driver found me a cab into Nouadhibou, since he was headed all the way down to Nouakchott himself. An elder Mauritanian man, with holes in his car doors and a ratty mattress strapped to roof, was the chauffeur of choice. We passed a few police checkpoints and a fair few camels (some dead, some alive), and even drove by the iron ore train that I would be taking to Choum a few days later. The train itself is over 3km long, making it, I believe, the longest and heaviest train in the world. Seeing it hurdle by, against a sinking orange sun, was an amazing sight.
Eventually, we made it to Nouadhibou, and after swerving around the donkey pushcarts to the other side of town, we arrived at La Baie Du Levrier, where I stayed for a few days. A hell of a journey, and perhaps fittingly so: my time in West Africa had officially begun.
I initially wanted to write this post about everything that's happened until now–being adopted for the day by a Senegalese family, jumping off of a moving train and barrel rolling through the sand, riding camels through the Sahara and the fair bit of vomit (not mine)–but Ill save that one for next time in order to keep this at a reasonable length. Thanks for reading.
Senegal tomorrow,
Will