In early June 2012, at a hostel in Northern Chile, as Clare prepared vegetable stir fry and Philip and Laura calmly chatted about geysers and sand-boarding, I came up with this crazy idea.
At the time, I was 5 months into my round-the-world trip, and mid-way through what became a 7.5 month stint in South America.  I was speaking Spanish every day.  Next, I had wanted to spend several months speaking French, and the obvious play was to do this in France.  However, at that hostel in Northern Chile, as Clare cooked us a dinner that I later cleaned up, I decided that France was boring and, in the winter months, far too cold; let's go to West Africa instead.
In addition to traveling West Africa, I had wanted to volunteer.  That night, I contacted faculty at my university, and was quickly directed to a professor at Georgia Tech who had done a Fulbright–a 10-month teaching stint–in Kankan, Guinea.  Weeks later, this professor organized for me to live with a family in Kankan, and to donate my time to a few of the local schools.
In mid-December 2012, my bush taxi carefully prodded through the live minefield separating Western Sahara and Mauritania, and eventually reached the Mauritanian side: my travels in West Africa had begun.  The plan was to be 4 months in the area, seeing 5 or 6 countries, with half of the time spent volunteering.
In the end, I visited Mauritania, Senegal, Guinea, Sierra Leone, and Côte D'Ivoire, including 2 months working in Kankan.  I taught Spanish to university students and Physics to 7th graders (in French!), and lived with a family throughout.  The following photographs will give you some insight into my life in Guinea, and what it was like living with a family in Africa.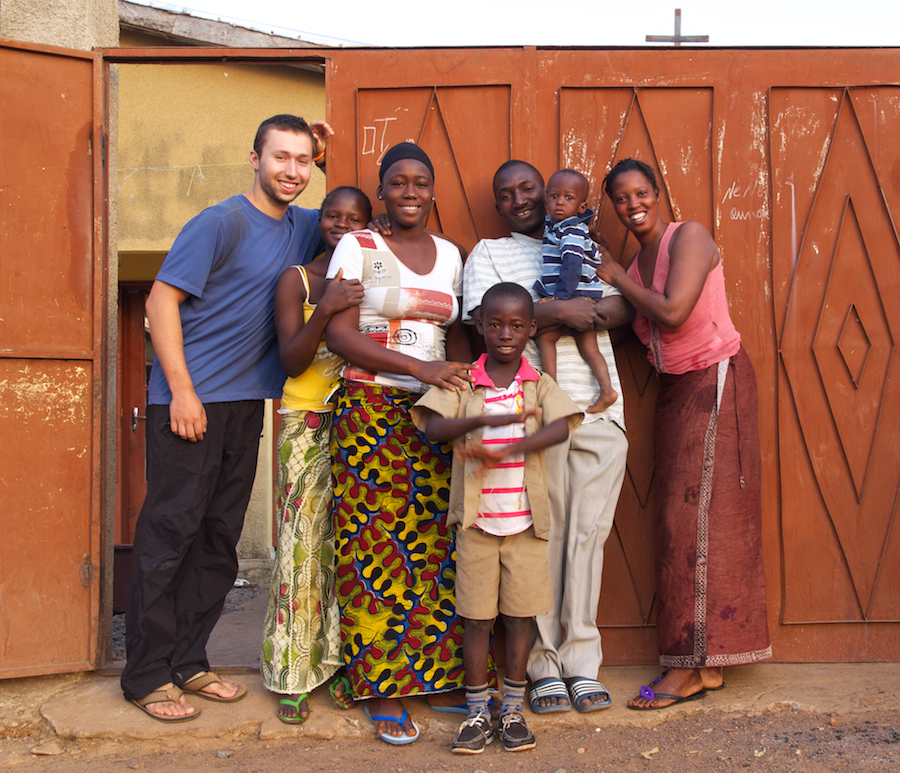 This is a shot of my family.  From left to right, we have me, age 23; Awa, the mother's sister, age 17; Fadima, the father's sister, age 22; Mory, the father, age 28; Adama, the son, age 1; Awa, the mother age, 22; and in front, Lo, the mother's brother, age 12.  The picture was taken beside our house, located in an up-scale neighbor at the edge of town, just after sunrise.
The father, Mory, was a French teacher in public and private high schools.  The mother, Awa, studied part-time, and worked mostly as a housewife.  The rest of the children attended school–except for Adama.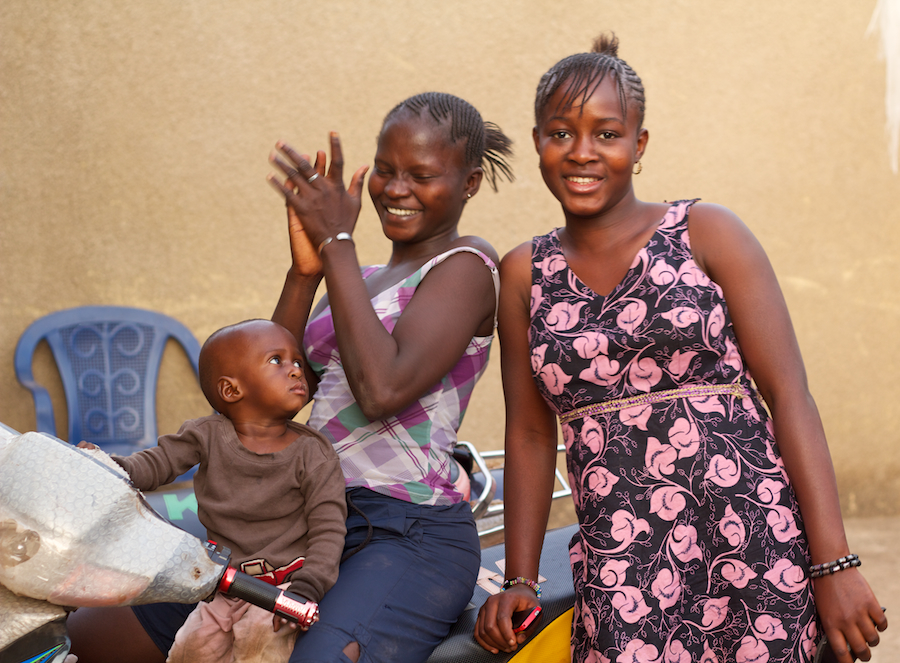 Awa sits with Adama and her friend on a motorbike.  In Kankan, and in most of West Africa, these motorbikes are very popular; if you can afford one, it is commonly your primary means of transport.  They are used for taxis as well.  Unfortunately, safety standards and knowledge are not quite congruent with those of the Western world; it is common to see a mother speeding down a dirt road, wearing no helmet, talking on a cell phone, with a baby fastened to her back by a tightly-pulled cloth.  Accidents are frequent as well.
In an effort to avoid motorbikes, I bought a bicycle.  However, this did not exempt me from sharing the road with motorbikes–a veritable hazard in and of itself.  I actually got fully ran over by one on the backroads of Kankan, which I'll write about in a later post.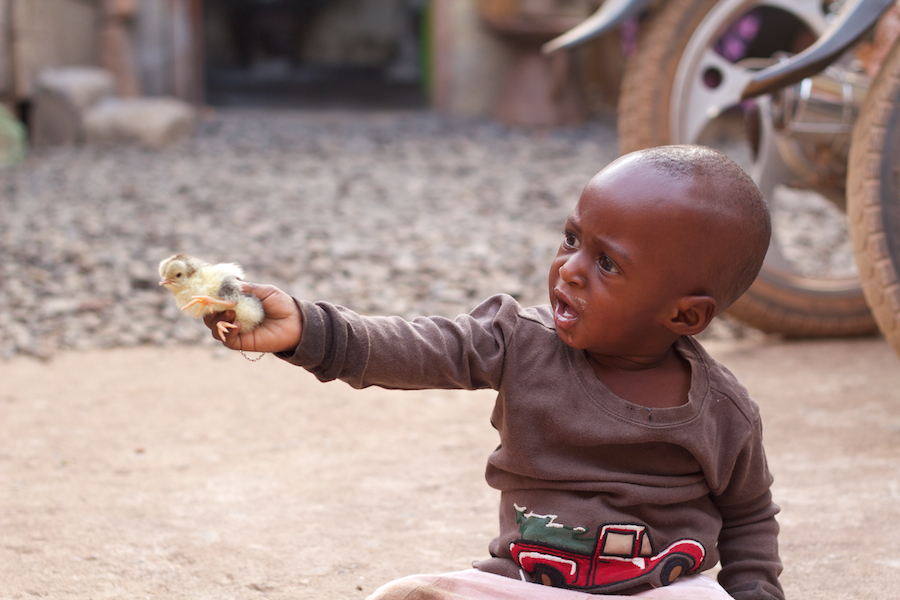 Our family had a chicken pen.  Frequently, we pulled eggs from this pen, and put them in salads.  Most of the chickens were bigger, but as all creatures do, they had a few children.  As you can see, Adama was terrified of these tiny chickens!  In fact, when he picked one up, he'd squeeze the thing almost to death.  It was kind of difficult to watch, actually!
In my first week in Kankan, we celebrated Adama's first birthday.  Since my family was relatively affluent, they threw him a birthday party: friends, plastic chairs, music, presents and balloons were all gathered on a typically humid evening.  A party in Guinea–this one included–is never complete without women gathering in a circle to casually dance, throw small bills in the air, and take turns in front of the camera filming them.  Chop My Money often soundtracked this scene.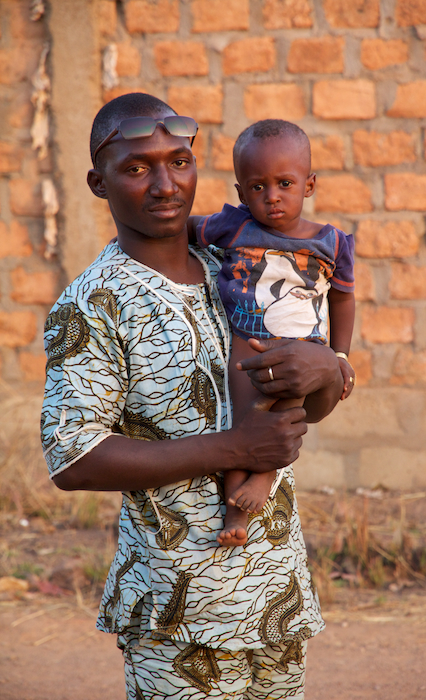 The remaining pictures were taken in front of the neighbor's house, at around 6:35pm.  As you can see, the light was very warm, and ideal for photography.
This is a portrait of Mory and his first-born son.  Like most Guineans, they choose not to smile for photographs, and instead adopt a more stern, grounded countenance.  Mory wears an outfit typical to the region, which I believe to have roots in both Islamic and Malinke culture–the religion and tribe, respectively, of the locals.
As you might imagine, Adama was adorable.  I saw him take his first steps, in fact.  I was super excited.  His mother was there too, but barely made a face.  "Aren't you going to tell Mory?" I asked.  "Meh–maybe later I guess?" she replied.  I suppose childhood milestones, like first steps or words, aren't as significant in this part of the world.  It's logical though: children are produced  here at an incredible rate.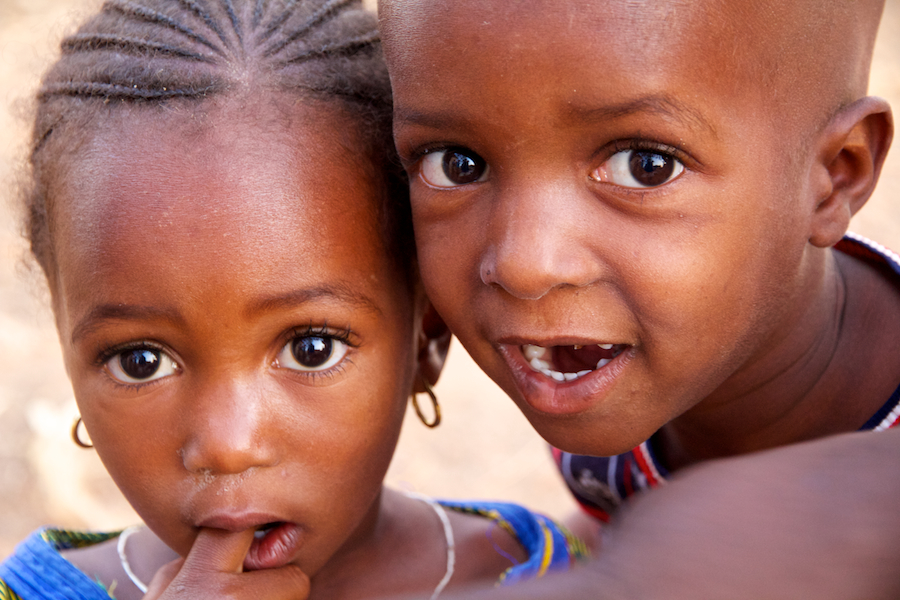 These are two of my neighbors.  In general, African children are gorgeous.  My neighbors were certainly no exception.  Look at those eyes!
The neighboring family consisted of one man, his 4 wives, and their respective children.  In total, they were about 15.  For most of the day, the women could be found sitting on the porch, preparing food and washing clothes.  The kids hung closely by, and all over the age of 4 would lend a helping hand.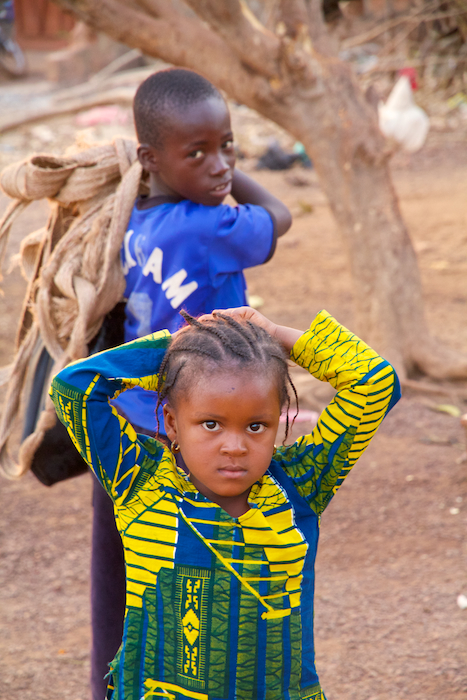 Another neighbor, in typical Guinean dress.  She was certainly old enough to help with daily chores.
Behind her is Lo, a member of my family, carrying the water sack.  This sacked was dipped into our shared well, from which we drew water for cooking, cleaning, and bathing.  Although 12 years old, Lo was still the least senior member of our family (aside from Adama, who got all of the attention), and since respect in Guinean society is doled out according to a strict age hierarchy, Lo was often verbally abused.  Awa and Mory would shout at him to go buy bread, heat waters for bucket showers, or clear the table.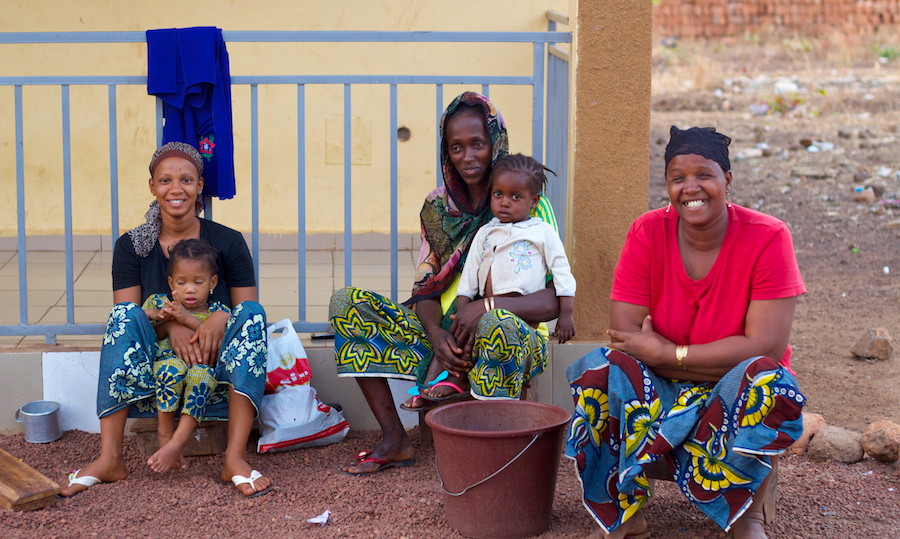 Three more of my neighbors, all wife to the same husband.  Here, outside the house, is where they could almost always be found.  If I returned to my own house and no one was around, I would often pull up a stool next to these women and chat about the day.  Their French was rough, but we got by.  They'd offer me food too, which was far better than that which my host mother cooked!  One time, they even invited me to a wedding.  Only one of the wives, not pictured here, actually had a job outside of the house, selling snacks and cigarettes by the gas station on the edge of town.
The lives of the neighboring wives were rather typical: in African society, women often work as housewives.  Their days may not seem exciting, but to me, they seemed happy.  These women had their children and their home, and not knowing much more, they were content with what they had.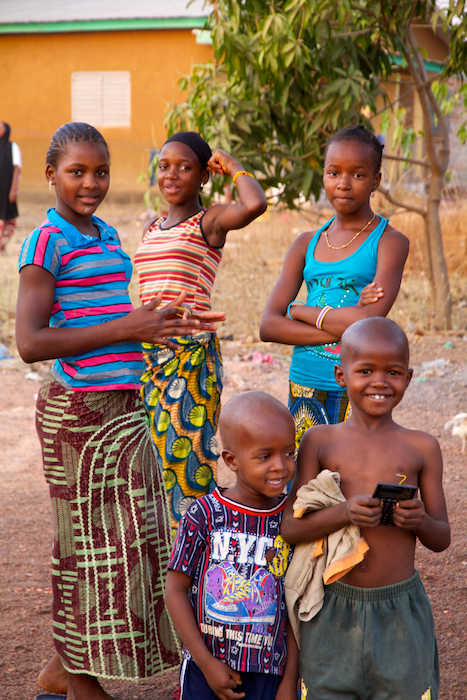 More of the neighboring children.  All pictured here should be over the age of 5, and therefore eligible to work.  The child on the right is carrying a calculator; education was stressed in  Guinea more than one might think.  It was not uncommon to see a chalkboard outside of a family's home, regardless of their economic situation.  In the evening, fathers would work with children on things like addition, subtraction, multiplication, division, French, and even English!
When I came home each night, I'd often find the boy with the calculator playing soccer outside with Lo.  As I'd approach, they would smile broadly, and kick me the ball.  A really lovely family, my neighbors.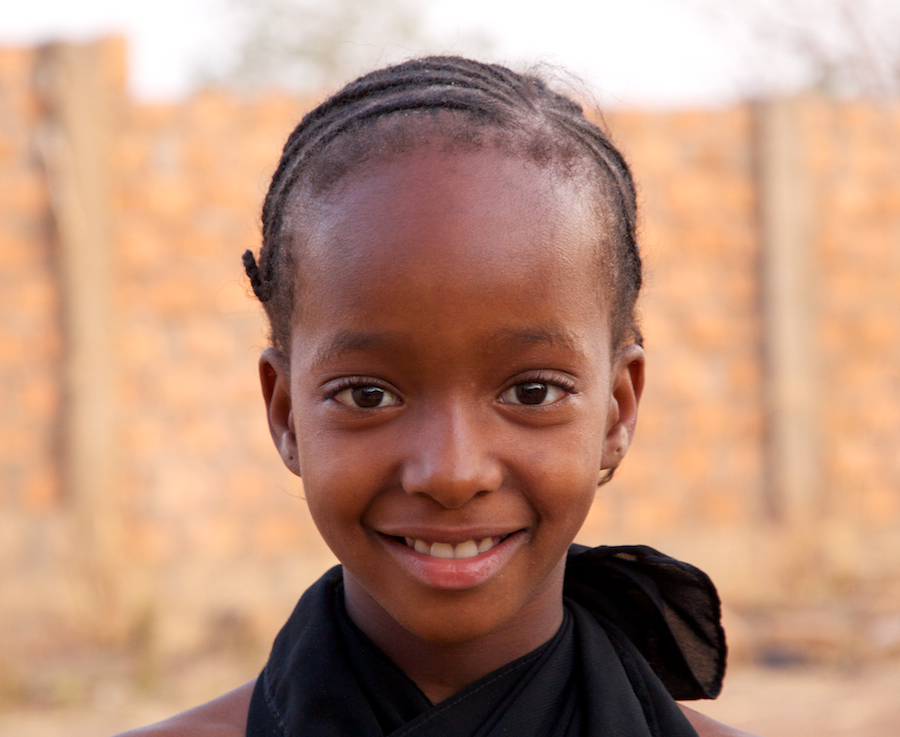 Another neighbor–another gorgeous African child.  Her hairstyle is typical of a Malinke woman, the dominant tribal group in this part of Guinea.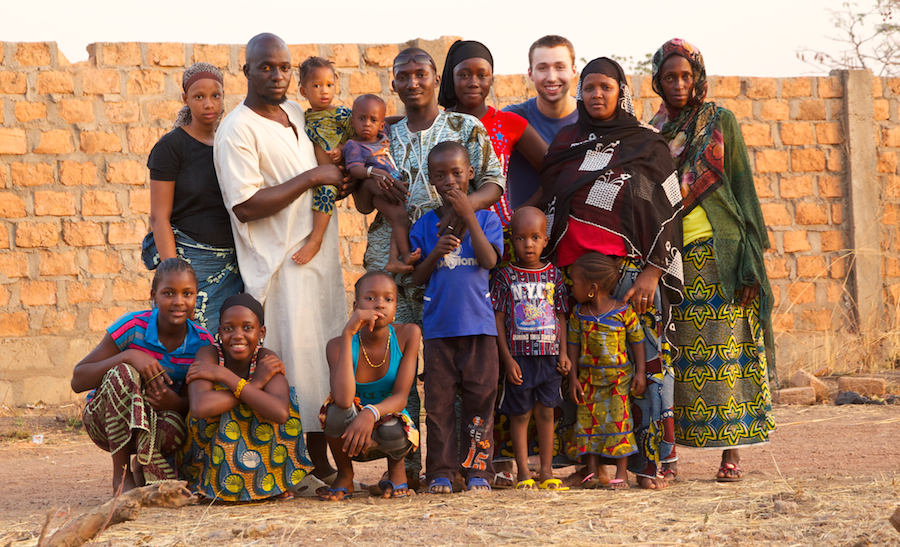 In this group shot, you'll see three of the wives, their shared husband, and their children, as well as Fadima, Mory, Adama, Lo and myself.  This shot will be with me for a long time; it's one of my biggest souvenirs.  When I left Kankan, I compiled and printed a photo album for my host family, with this picture featured prominently.  The shot was taken right around sunset, and the light was gorgeous.  The colors are bright, the smiles are wide, and the cohesion, simplicity, and good vibes are almost tangible. It is powerfully, and unmistakably, Africa.
My experience living in Guinea was remarkable, and remains one of the highlights of my trip.  I do hope these pictures give you a taste, and perhaps, make you want to see a bit of my darling Guinea for yourself.
Have you ever lived with a family while traveling?  Share your experiences below!