This post was written on May 10th around 8:00pm: the first day of Will Bikes Central Asia.
The purpose of this post is to paint my mind on the page. It will have no direction, nor direct expectation: I just want to tell you what's going on. Tonight concludes the first day of my bicycle tour through Central Asia—a four-month, two-wheel solo sojourn through Turkey, Georgia, Azerbaijan, Kazakhstan, Uzbekistan, Tajikistan, and Kyrgyzstan—and truthfully, my head is a mess.
I type this post from the mudroom of a mosque—my home for the evening. The room has a stone floor and white walls, and is roughly 15 feet long by 8 feet wide. I sit on a wooden plank, which will later serve as my mattress, atop two prayer rugs possibly woven with the excess pink and yellow from a 1970's ski jacket. My bicycle jersey and shorts still cling to my body, as well as my black waterproof pullover pants, which I put on earlier out of requisite respect for evening prayer-goers. I arrived here around 5pm, just as prayer began.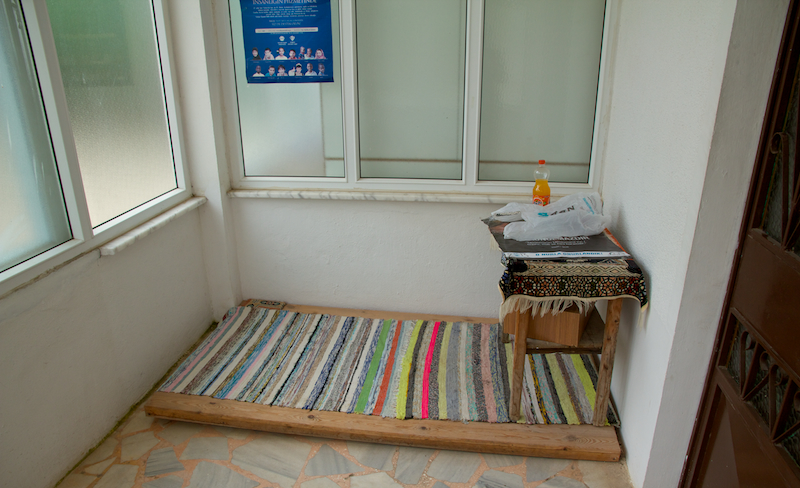 Outside, dogs bark. There are a lot of dogs in Turkey, in fact! Many of these dogs are stray dogs, of which some are rabid, and unfortunately, they have been known to bite. As a cyclist, I must be extra careful, as dogs do have a tendency to chase bicycles. Today—the first day of my bike trip—I actually encountered many. Only one barked, however, to which I got off my bike, looked it straight in the eyes, and starting shouting until it ran off. This is the strategy, I'm told.
Aside from the dogs, it's quiet here. I haven't had this quiet in a while, I don't think. It certainly wasn't there in Istanbul, and just before, during my month in Israel, I don't remember it too well either. I camped one night with a friend on the shores of the Sea of Galilee, and that night, just maybe, it really was quiet. I do remember feeling like I was back in the woods, that night. The sound of the water, the primavera scent of green and grass, the sun illuminating my lime tunnel tent in the morning like a neon lava lamp in your local head shop. My current location is similar—it shares this succinct lack of real noise. You can tell this town, whose name I haven't yet discovered, is a peaceful place. Equally, you can probably guess that anyone under the age of 30 living here is bored out of their mind.
One day ago, my bike trip had not yet started. I was nervous. I confided this to a close friend of mine, who quickly chided, "Please, Will, you don't get nervous." It was a sweet thing to say. However, Ali, I really was nervous: I had no idea how this first day would go. Sleeping was my biggest fear: I won't exactly be pulling along a motorhome to which I'll retire each night.
I've been on the road for 16 months now, and through all the uncertainty, chance and improvisation of daily logistics—not knowing where I'll sleep, not knowing where I'll find my next meal, not knowing much about the person's home I'm sleeping in—I really am pretty comfortable. Perhaps, it was because of this comfort that I was driven to move my trip to 2 wheels in the first place: could I really do another year with just a backpack? Could I really show up to city after city, maybe wander around, maybe go for a hike, maybe snap some photos or climb a wall or make a picnic with friends or drink beer until I want nothing more than my far-off bed in my far-off America? My travels were plenty exciting, and more than plenty unforgettable, but I could sort of just—see how the rest of it would play out. It was all very clear in my mind. While traveling Central Asia is probably no "Christmas morning" (says the Jew—from the mudroom of a mosque), the prospect didn't really intimidate me. And for whatever reason, I do want to be intimated. I want to really not know what's going to happen next. Perhaps, this is the only way I'm able to stop my mind from racing around the globe, from dancing around in cartographic wonderland and demanding to myself: "Why aren't I doing something bigger?" In the context of travel, when I do place a obstacle in my way and challenge myself to get around, I think my mind does stop—or maybe just becomes humbler, actually—and I realize that even though my energy for travel seems endless, even though I was that kid in the lab group studying topographical maps of Pakistan instead of helping with the problem set, and even though I think if I wanted to, I could probably do anything—it all largely exists in my brain, and in reality, I'm really not Superman. There is so much about travel—and life too, of course—that still spews the air out of both of my tires, and while dreaming big is one thing, and probably the more important thing, making these dreams a reality brings more obstacles than not, and is never an easy task.
So I want to not know. I want to be scared. I want to be nervous. This is one reason I'm doing this bike trip: to have dreamt something bigger, and then see what it really takes to make it a reality. This is why I find myself writing from the mudroom of a Turkish mosque.
Today was the first day of my trip; how did it go? I had a fantastic time, I must say. The morning began after 4 hours of sleep, as I shakily pedaled my fully-loaded-for-the-first-time bicycle through Istanbul morning traffic, and down towards the Üsküdar ferry port. I then visited my friend Bülent, the owner of Pedal Sportif Bike Shop, took a picture, and got on the boat. Minutes later, and we arrived on the Asian side of Istanbul, and I began pedaling. That was how it all started.
I doubt I'll ever forget today, in fact; I think the details will always remain crisp in my mind. I'm still nervous too—my brain is still on fire. I've never slept in a mosque, nor next to 4 black panniers instead of a backpack, nor had the road as my home in the way it now will be for the foreseeable future. In a way, though, I actually have done all of these things before, but in a way, they're all shiny, plastic-wrap new. For now, these are the things that are keeping me in check, keeping me nervous, keeping my feet and wheels (but never my mind) securely on the ground. I guess I'm doing what I set out to do.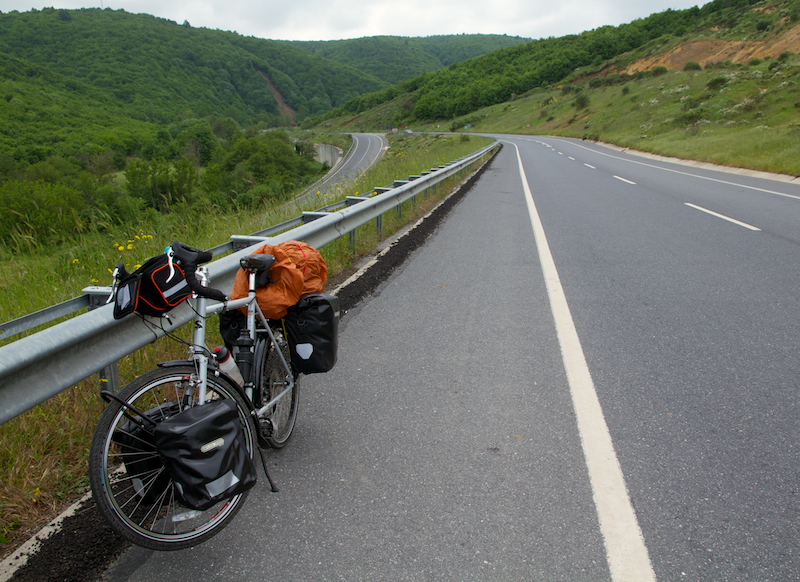 Salaam alaikum,
Will