My 3 weeks biking across Turkey was my first foray into cycle touring.  My priorities were basic: read the map, get to the next city, find places to camp, and make friends with locals.  In fact, I was more interested in familiarizing myself with bicycle repair than I was with seeing all that Turkey has to offer.  When I arrived in Georgia – roughly 1,500 kilometers from my starting point of Istanbul – I wanted to be a better tourist about it all.
After some loose research, I gained interest in the Svaneti region of Georgia.  There's mountains, rivers, lakes and snow – all of which suit me quite nicely.  I wanted to get off the pavement as well, and see how my bike did on more rugged terrain.  I found a French guy's Flickr album from Svaneti as well, which really sealed the deal.
After arriving in Batumi and securing my Azeri visa, I could have cycled east to Tbilisi.  Instead, I did a loop up into the mountains – the Svaneti region of Georgia.  The following photos chronicle that journey.  The photos begin as I ride into Mestia, a scenic tourist hub that sits 1,400 meters above sea level.  Arriving in Mestia on a loaded touring bike was not easy.  However, cycling the remaining 45 kilometers to Ushguli – a stunning medieval playground tucked beside jagged peaks and warm green hills, sitting 2,100 meters above sea level – was far less easy.  The picture below illustrate that journey: The Battle of Ushguli.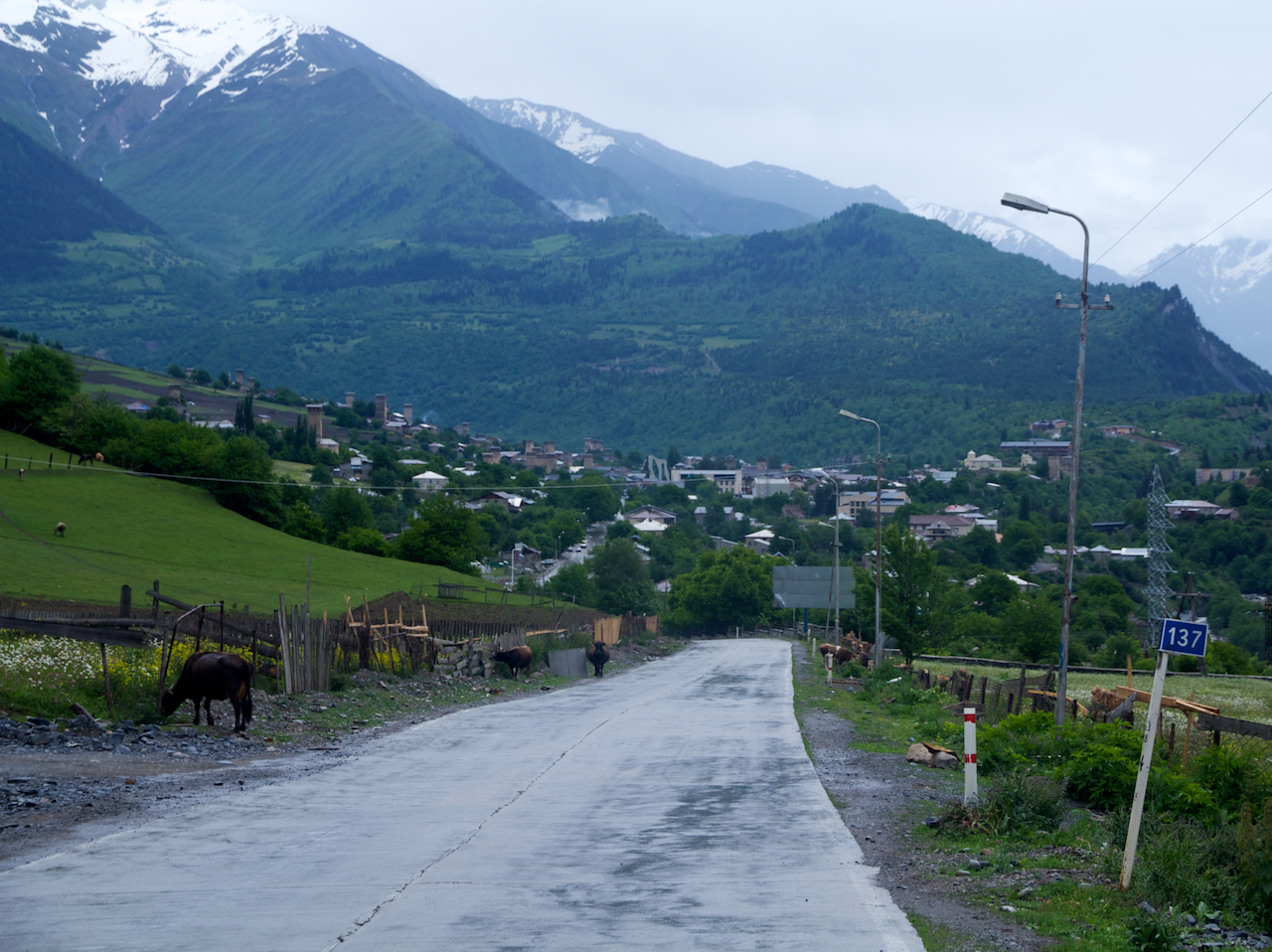 After what was then my hardest day of cycling yet, I approached the town of Mestia.  The rain had just started, and my mango Patagonia jacket went on.  While I mostly sleep in a tent, I was more than ready to splurge on a warm bed and a cold beer.  Well deserved, I think.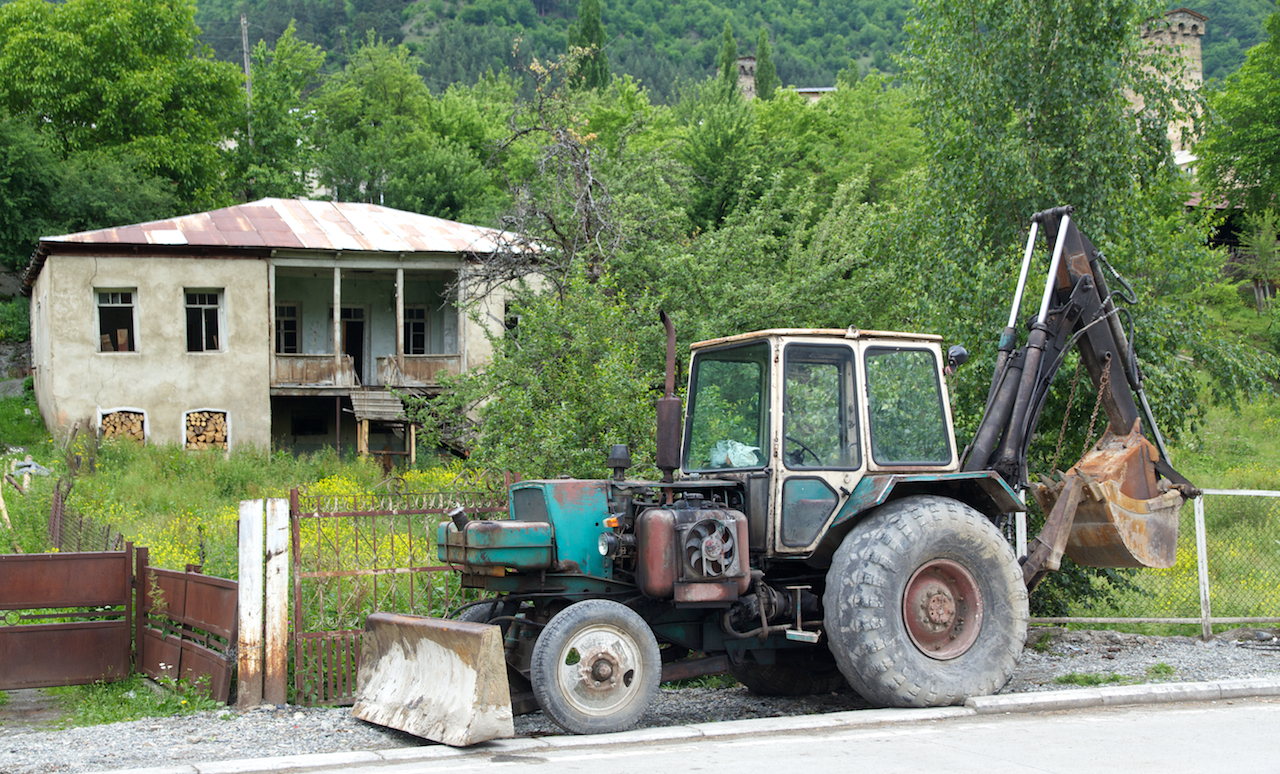 When the Soviet Union dissolved in 1991, a ton of state property – gas stations, street lamps, construction equipment, etc. – was no longer owned by the state, as the state no longer existed. In Georgia, as I'm also now finding in Armenia, there is a ton of abandoned stuff, especially in the countryside.  It's artistic, in my opinion.  It makes the country seem rather eerie.  The above tractor is a likely example of decaying public property; I doubt that thing that been turned on in years.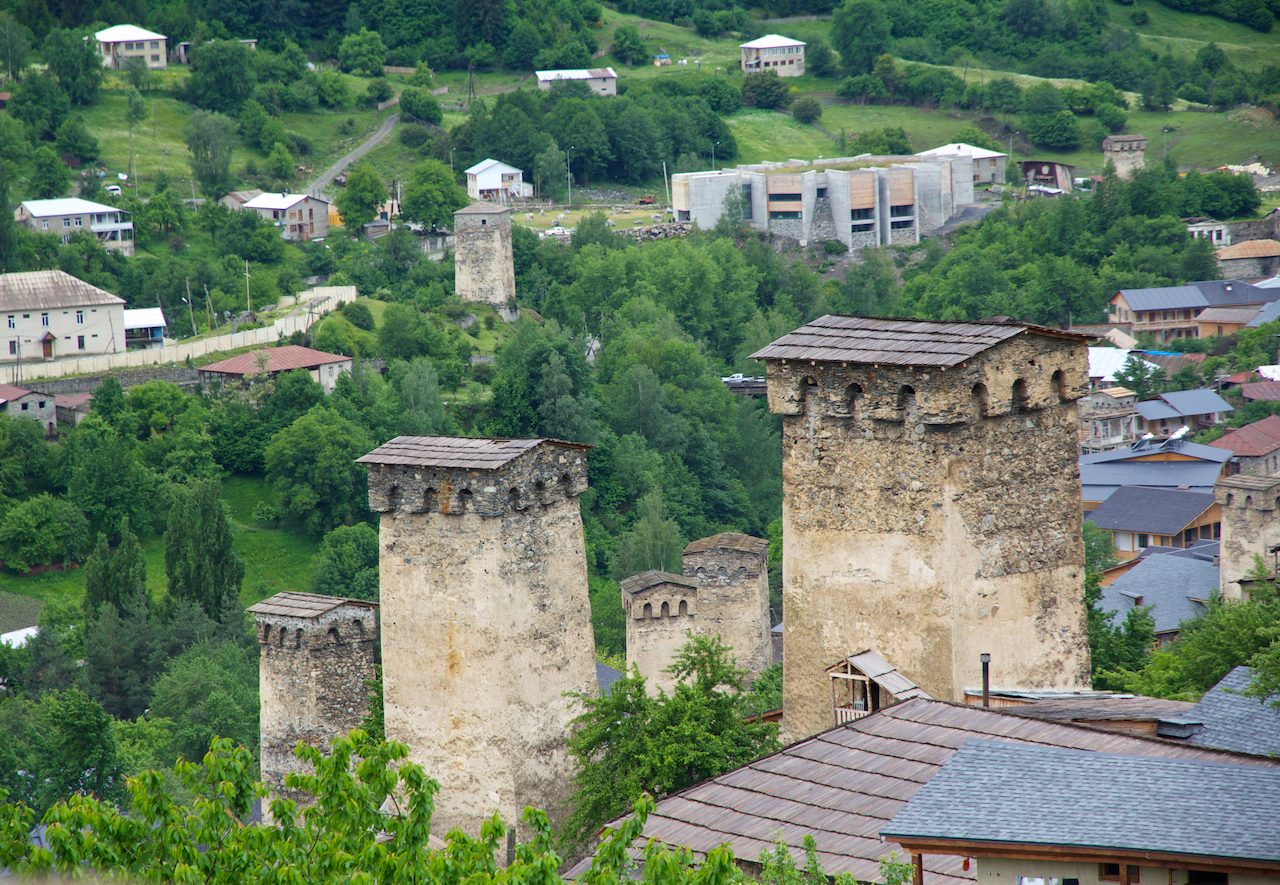 These towers were pretty iconic to the region.  Here in Mestia, there was one converted into a "museum": anyone can go inside, ascend about 8 different, almost-vertical, rickety wooden ladders, and peer out at the town from a hole in the roof!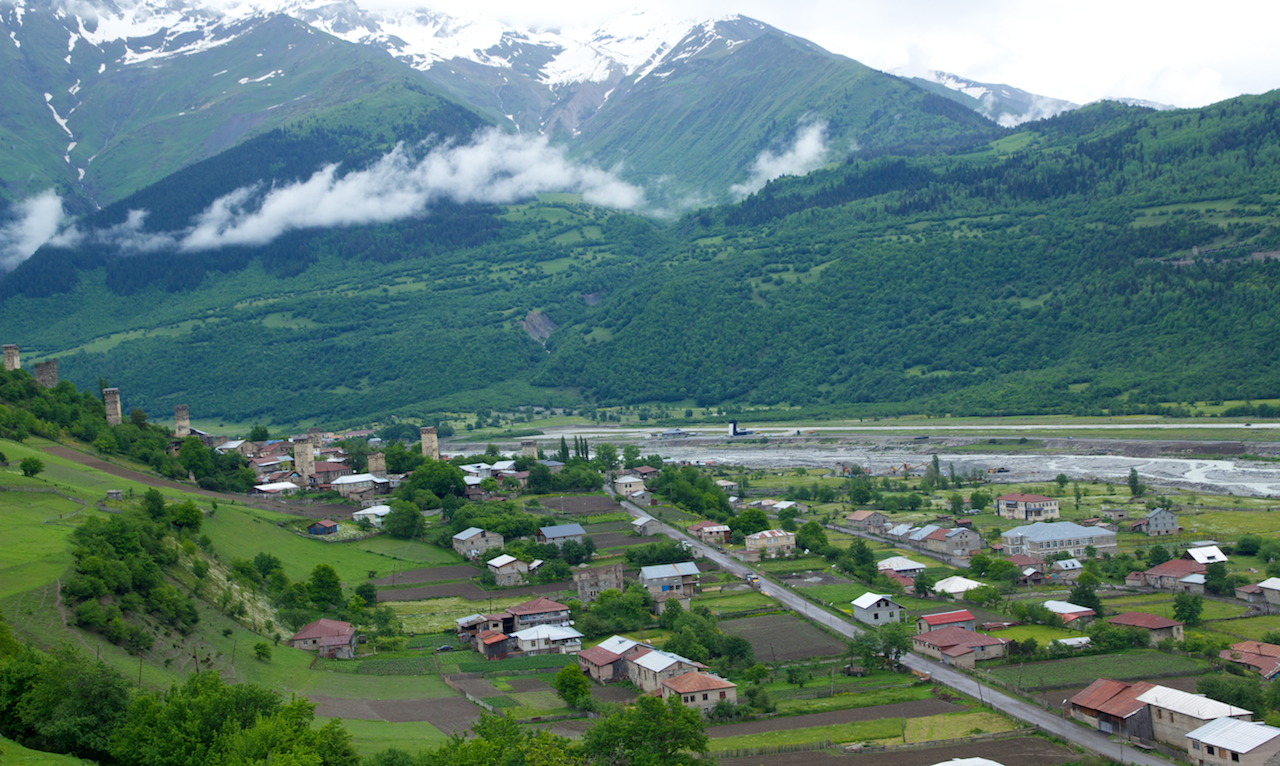 The ascent to Ushguli begins.  700 meters of vertical ascent to go.  If you think the road was paved, you're sorely mistaken.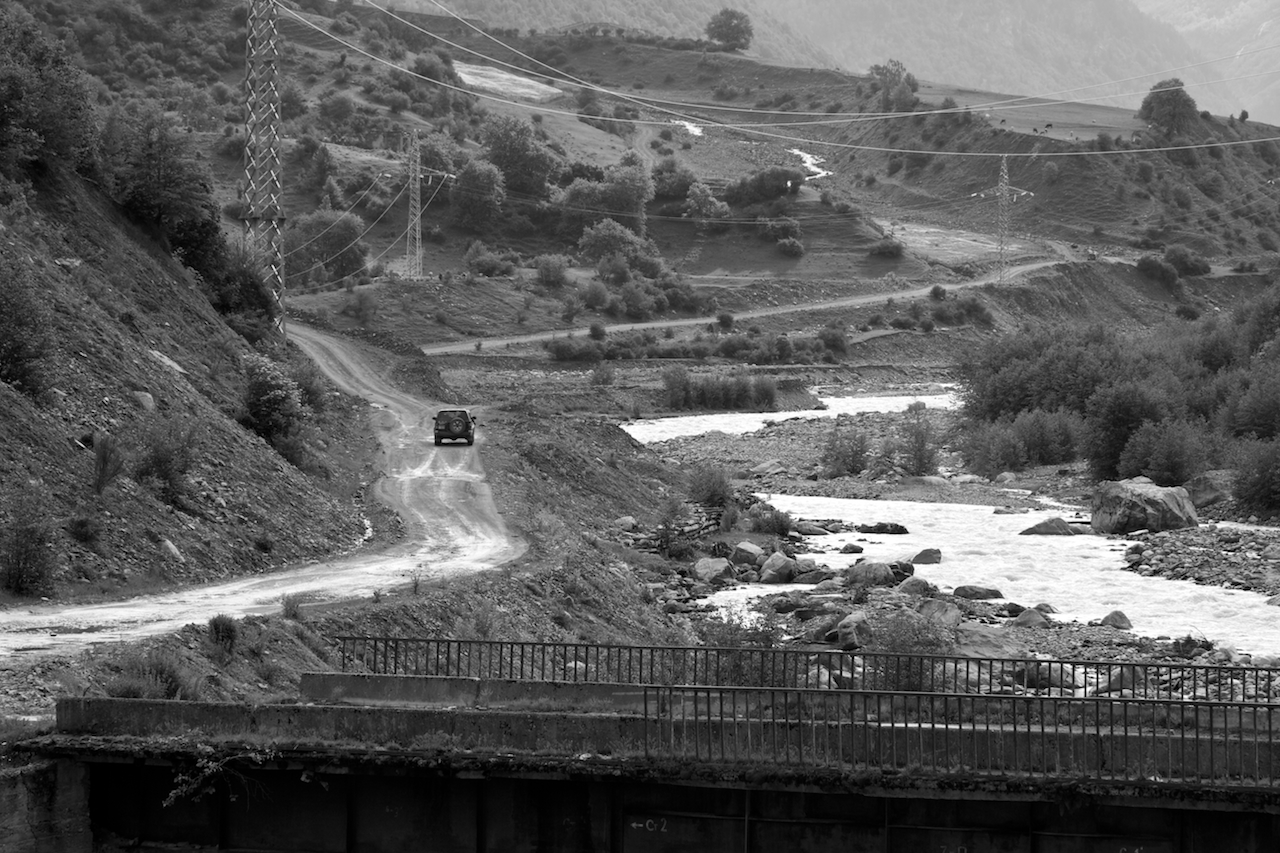 The road was mud, rocks, and gravel.  Here's a car taking on the piste; even with 4 wheels and an engine, it takes roughly 2 hours to drive the 45km to Ushguli!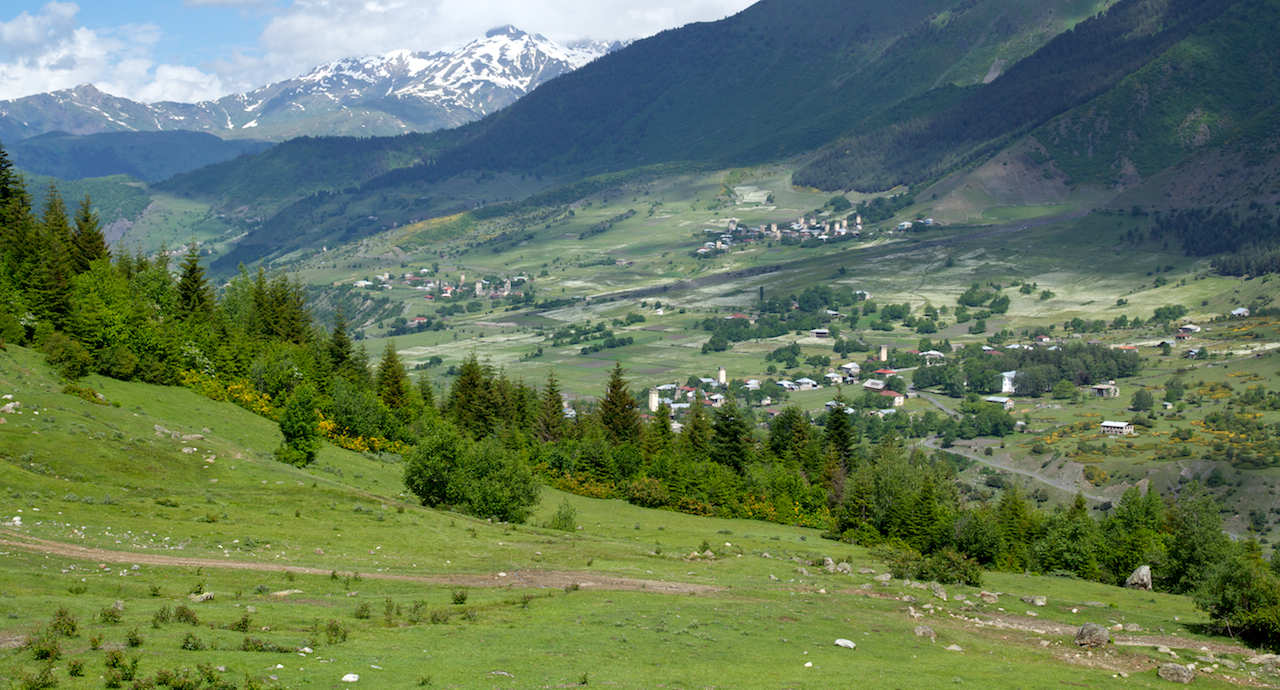 Up, up, and up.  Macklemore and Ryan Lewis was the music of choice for this stretch.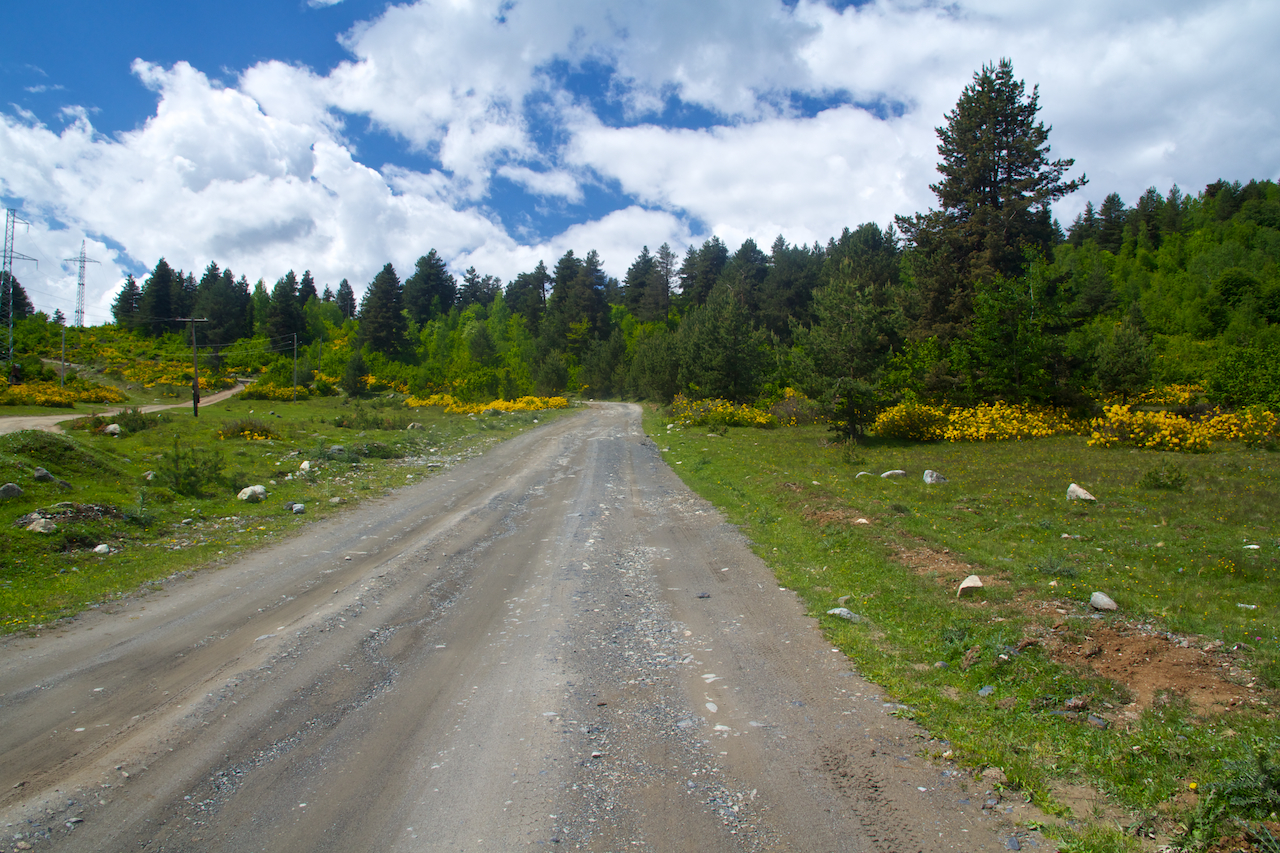 Of course, the work is not without reward.  There were tons of gorgeous, bucolic stretches such as this, with blossoming yellow flowers in every corner.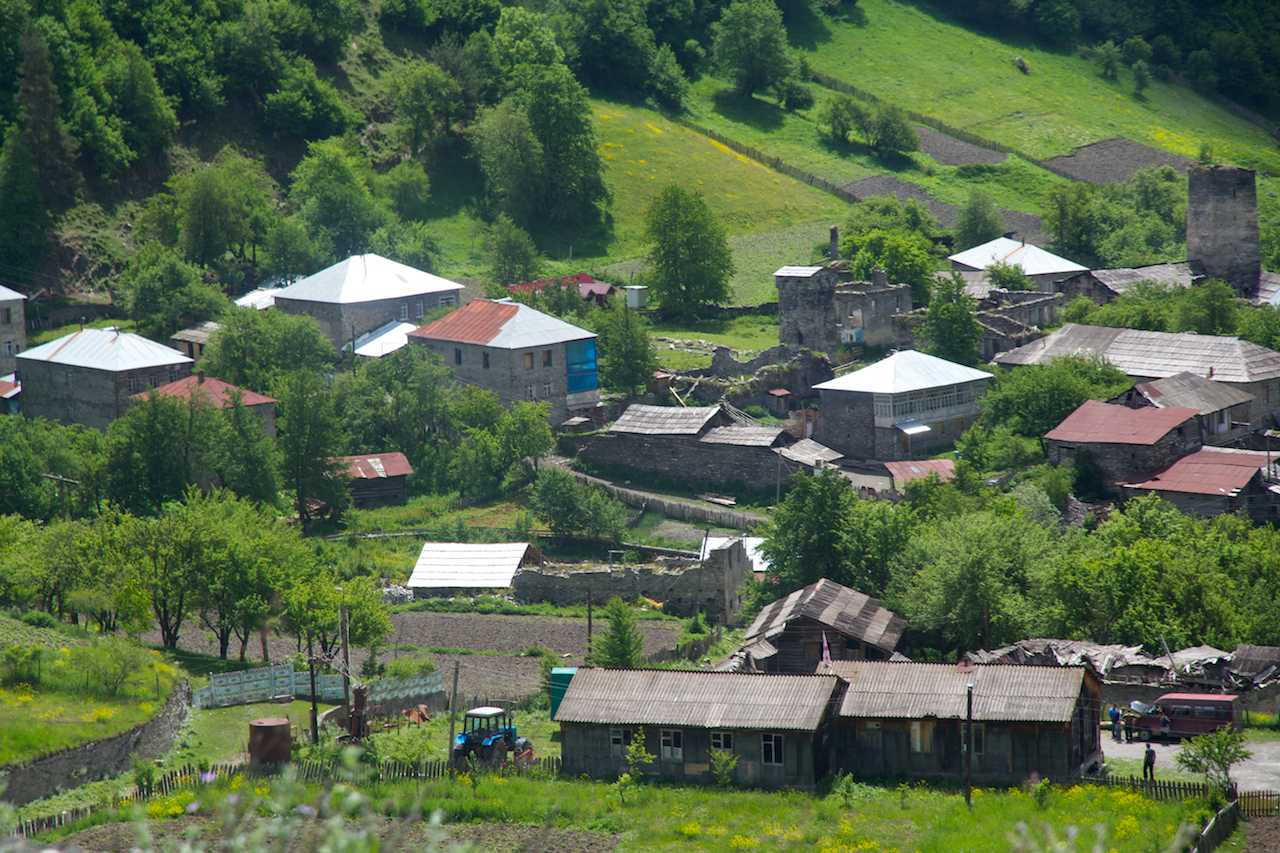 I passed a few villages along the way.  Here, I needed some food.  I stopped in front of a group of villagers, repeated the Georgian words for "shop" and "food" a few times, and was escorted across town by an older lady.  We wound through the back roads, up and around the imposing streams and piles of poo, and arrived at her house.  Then, she lead me into the attic, where she had a few shelves stocked with the essentials: cooking oils, bread, cheese, sardines, and probably vodka, if I remember correctly.  None seemed too appetizing.  Instead, I paid her a dollar or so for these potato-bread-cake things she had prepared, which were idling in an open tupperware container on the kitchen table.  It did the job.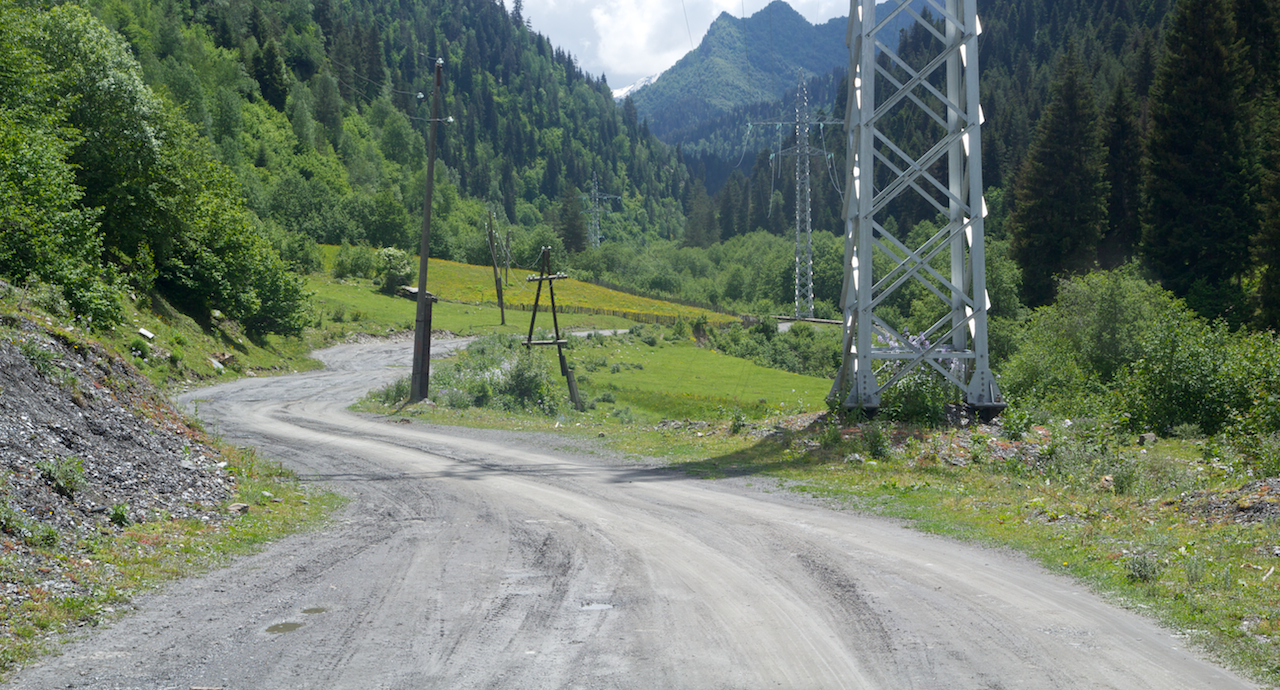 More scenic, winding roads.
From here, it started to rain – really rain.  As such, I kept the camera safely tucked away.  Meanwhile, I road along more dirt piste straddling sheer cliffs, raging rivers, and of course, more cow poop.  I crossed many streams on the bike, and plowed through my fair share of mud.  In addition, I exploded an inner tube climbing up the final stretch, which I had no choice but to repair on the side of the road.  Not too close to the edge though – it would have been a painful, 100 meter fall down the other side.
Just before Ushguli, I pushed my bike up an exceptionally steep path, and was crossed by a van full of backpackers I had shared dinner and breakfast with a few hours prior.  I was met with a huge round of applause by the whole car, which put a broad smile on my face.  A hell of a day it was.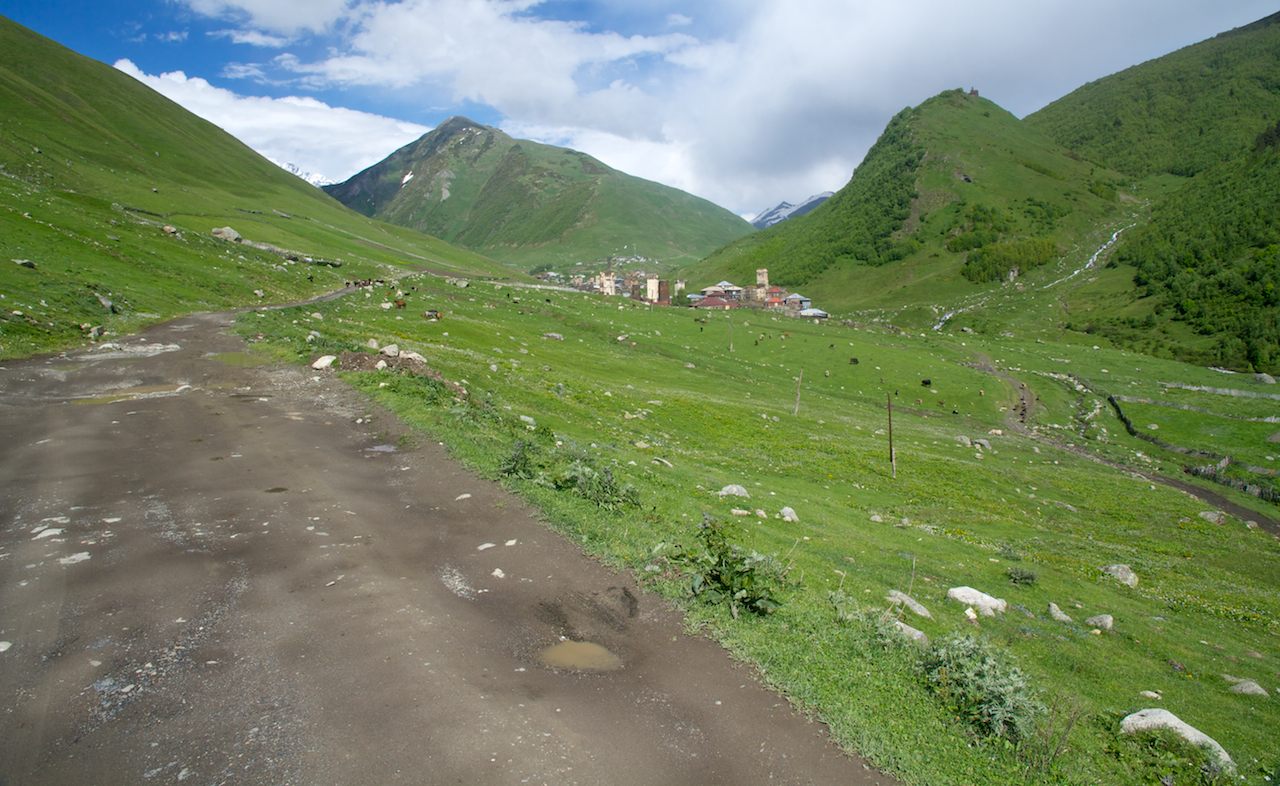 Riding into Ushguli.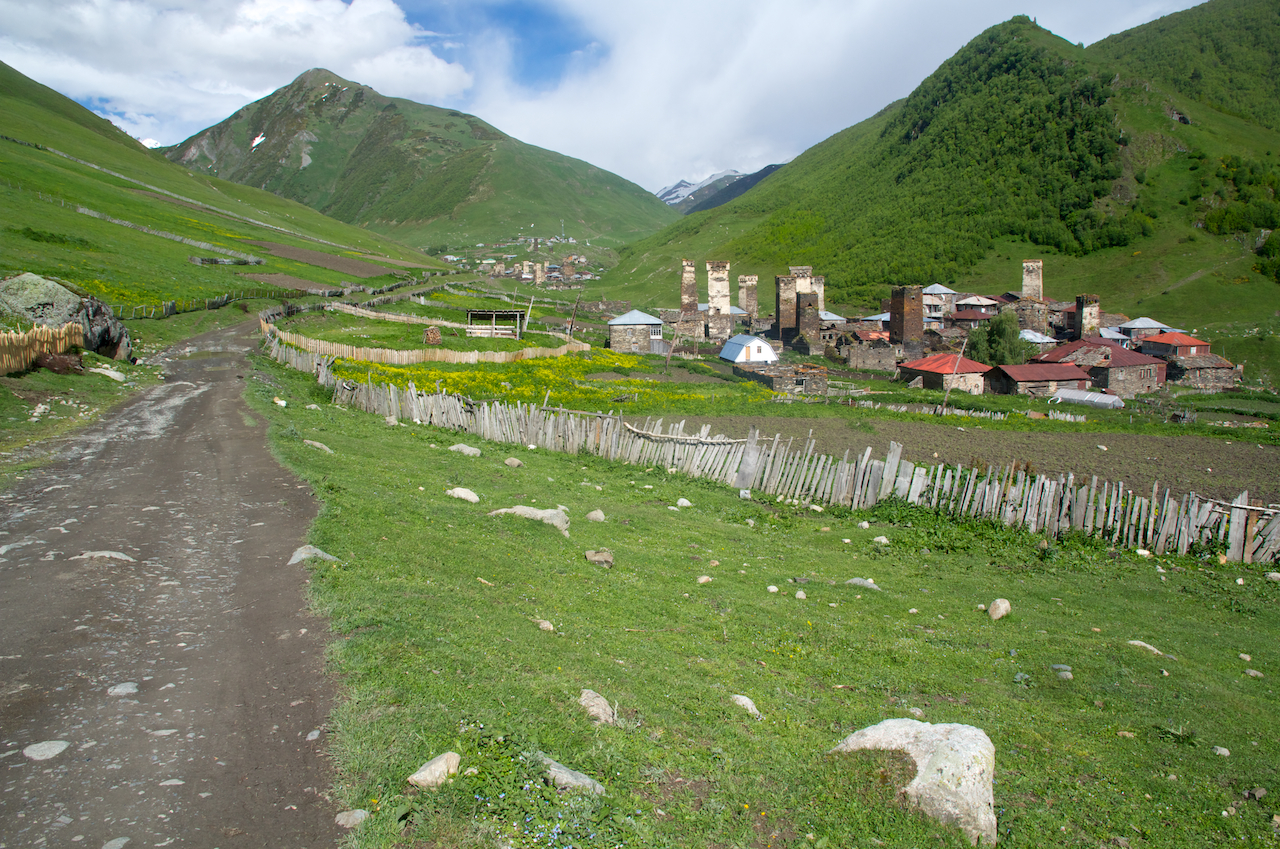 I found this place stunning.  I've seen a lot of beautiful places on my trip, but this one really stood out when it first hit my eyes.  I was pumped to be there – finally.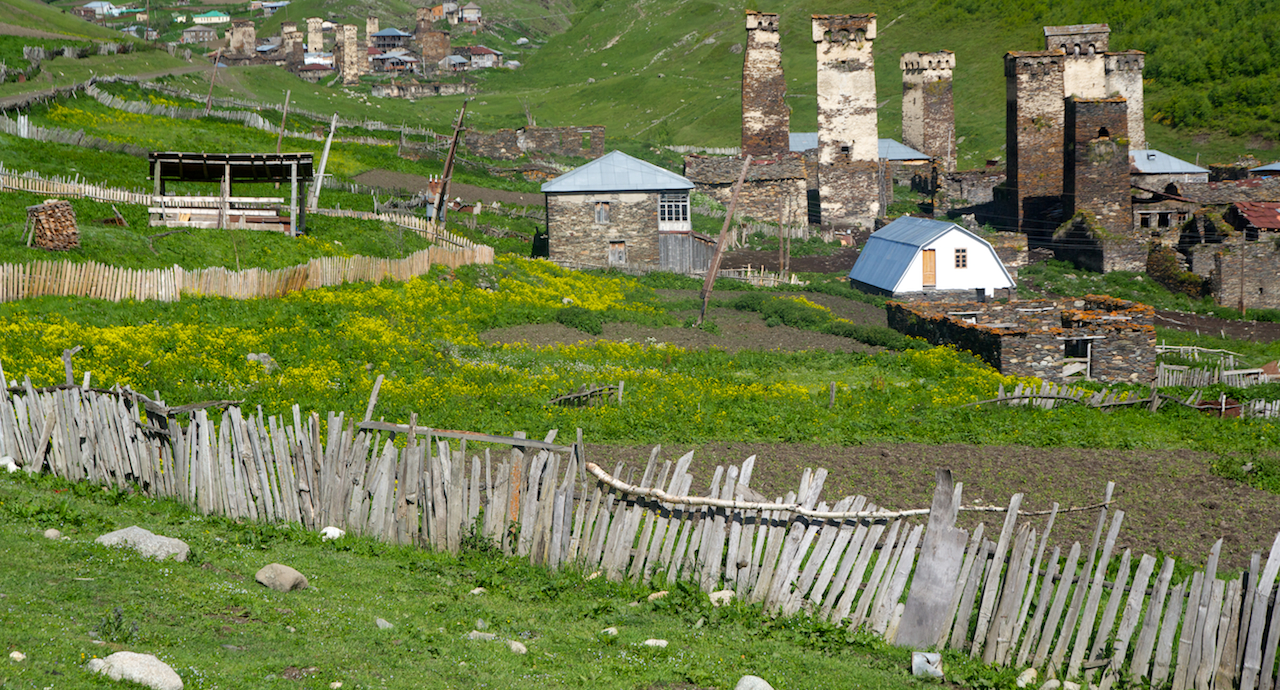 This looks like it belongs in the 1800's, yea?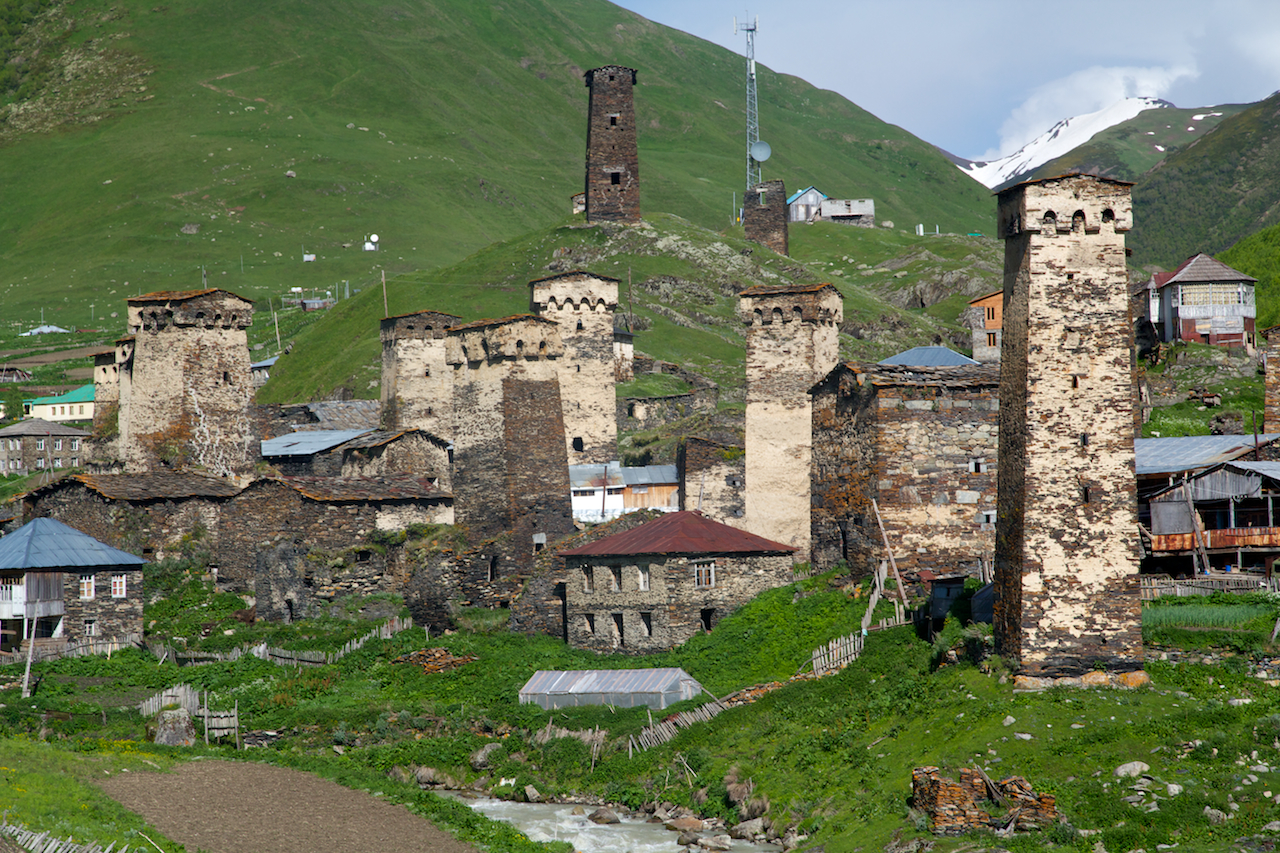 More beautiful Ushguli.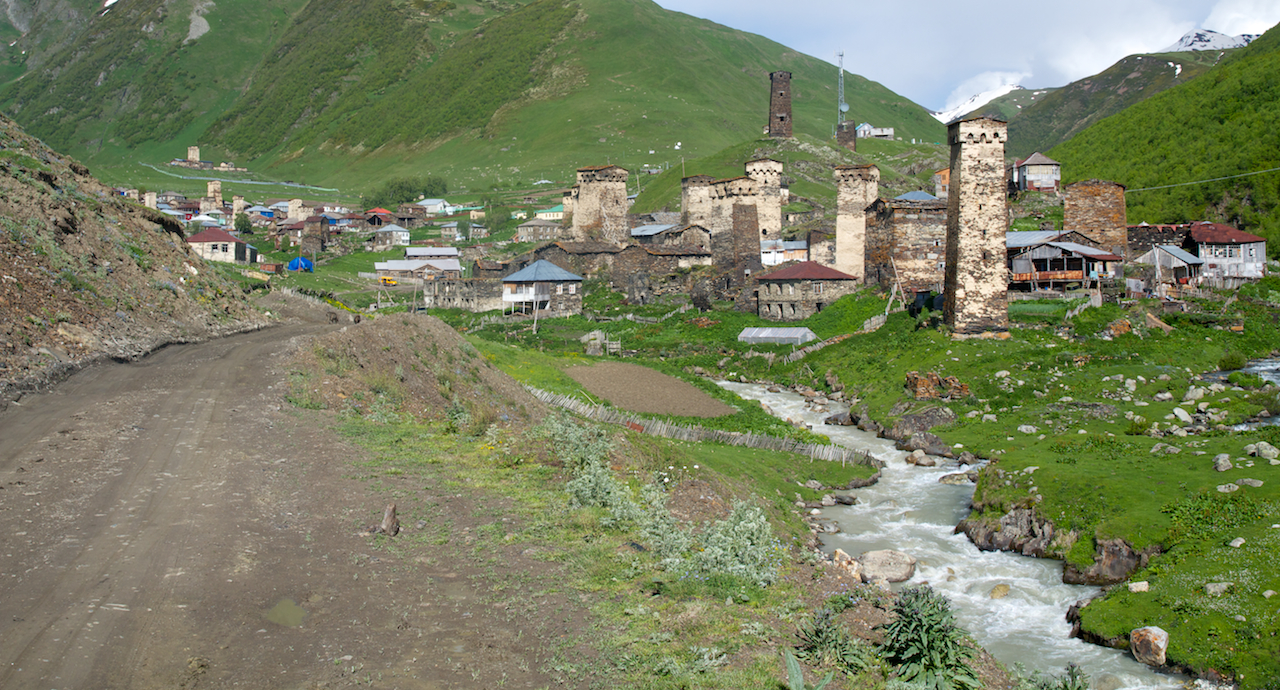 Right about now, I tried to plow through a particularly deep mound of mud, and with my shoes still foolishly clipped into my pedals, I stalled, lost my balance, and fell.  It really wasn't a problem, except a small part of my break lever that had broken off a few weeks prior, in another fall caused by savage Turkish dogs, broke off once more.  At the moment, it's being held together with Epoxy (I repaired it the following day with super glue and sandpaper, but no more than 5 minutes into pedaling out of Ushguli and down the other side of the mountain, it broke again, and just as I saw the crack and picked my head up, a car full of Israelis approached, who gave me the Epoxy!), but it will need replacing.  My savior Bülent from Istanbul's Pedal Sportif Bike Shop has just sent a new part to a hostel in Tbilisi, which I'll pick up next week.  Istanbul is really the last place to buy decent parts for cyclists heading east.  Close call.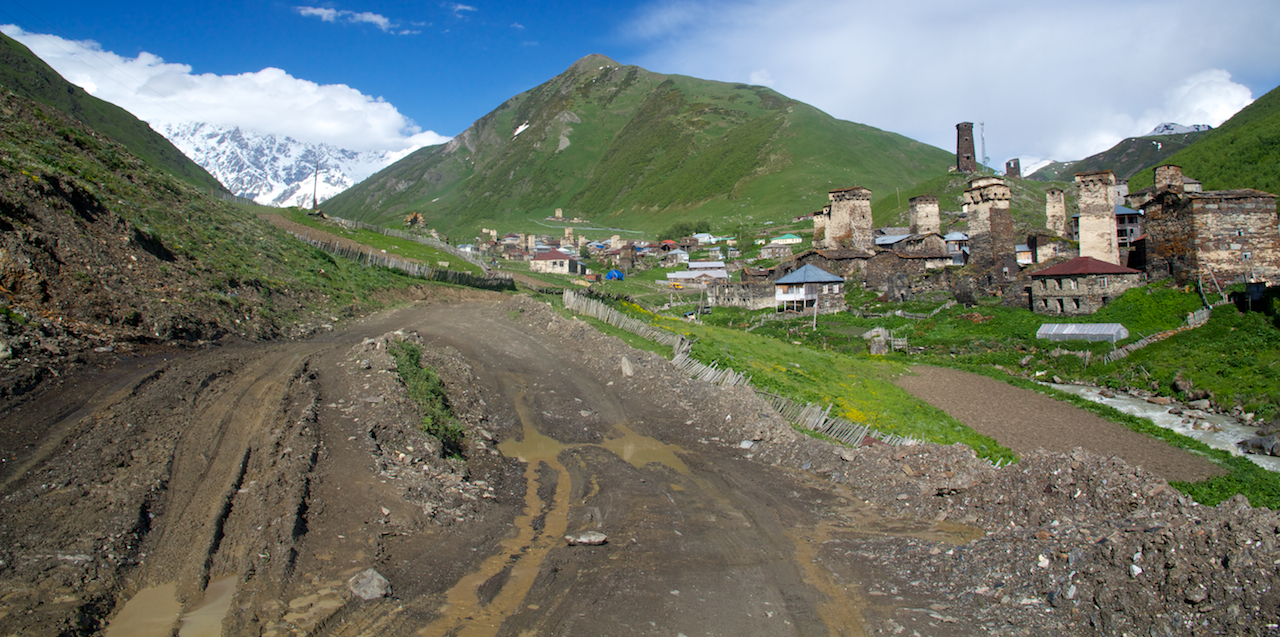 One more shot.  I thought Ushguli was gorgeous when I first saw the buildings on the right.  I completely lost my mind when the mountains on the left then came into view.
And that's it – The Battle of Ushguli.  I'm glad I did it, but I'm not sure I'd do it again.  The pictures will be treasured forever.  More in future posts for sure!