Ushguli, Georgia has been a shining highlight of my bicycle tour.  I battled through the mountains to reach it, and found it one of the prettiest places I had ever been.  I made sure to take a lot of pictures, and I'm dying to share them!
The following is a basic photo essay of the town of Ushguli.  It's a small farming town in the Georgian Caucus Mountains, sitting 2,100 meters above sea level.  By car, foot, or bike, it is well worth the effort to see.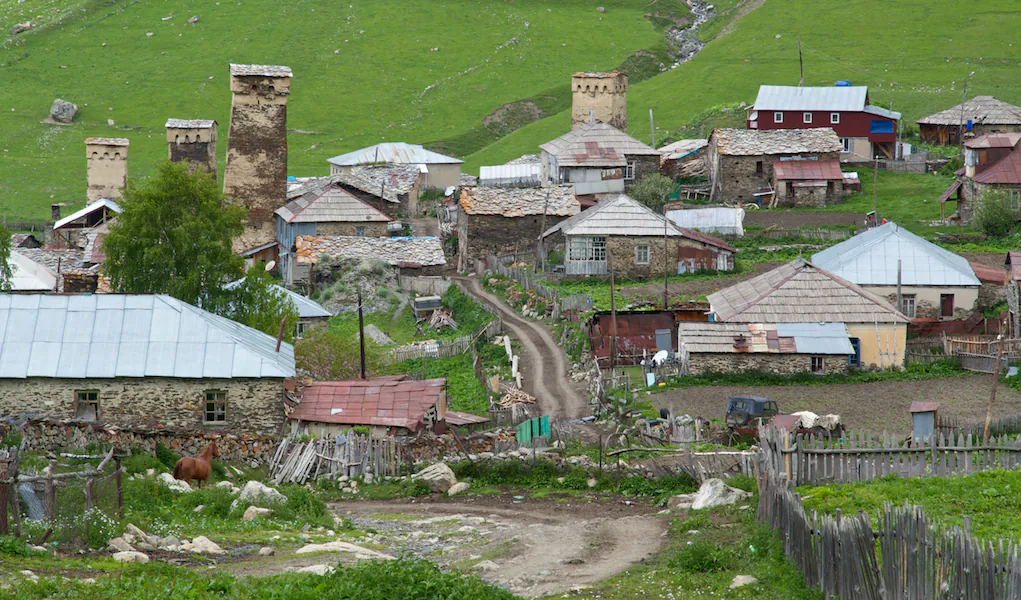 There are two main pockets of Ushguli: the first, as you approach the town from Mestia, and the second, a few hundred meters further.  This is a shot from the second pocket.  In both, you'll find many of those stone towers you see here, which are very iconic in the Svaneti region of Georgia.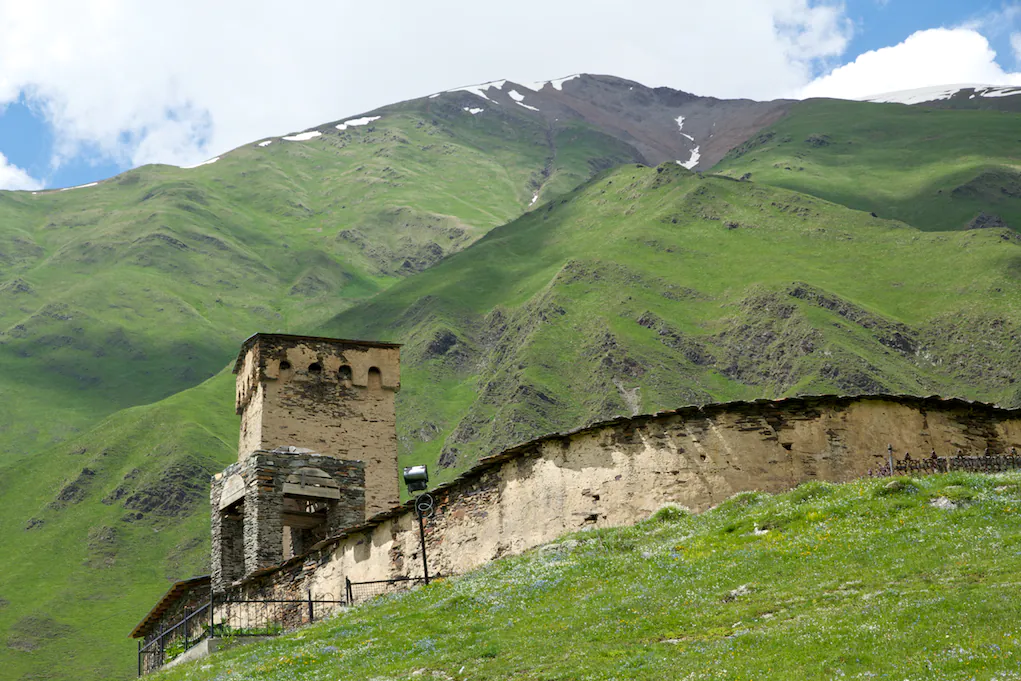 This is where the Queen used to live.  Her ancient residence sits at the foot of the looming, snowcapped mountains towering over Ushguli.  From her window, she could see the whole town.  Nice view!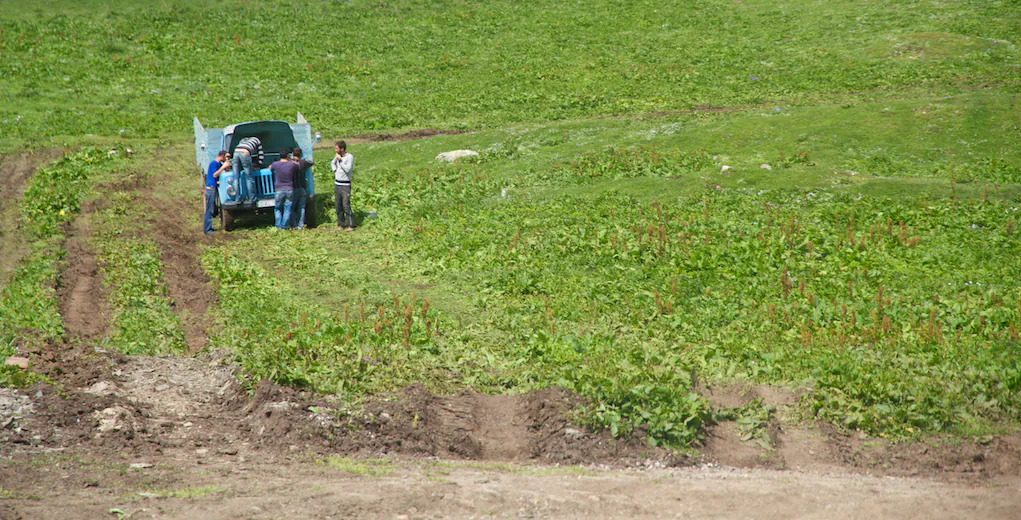 Local boys do some maintenance on their truck.  I watched them, for roughly an hour, try to drive this thing up a small hill adjacent to the Queen's residence.  To my knowledge, they never succeeded.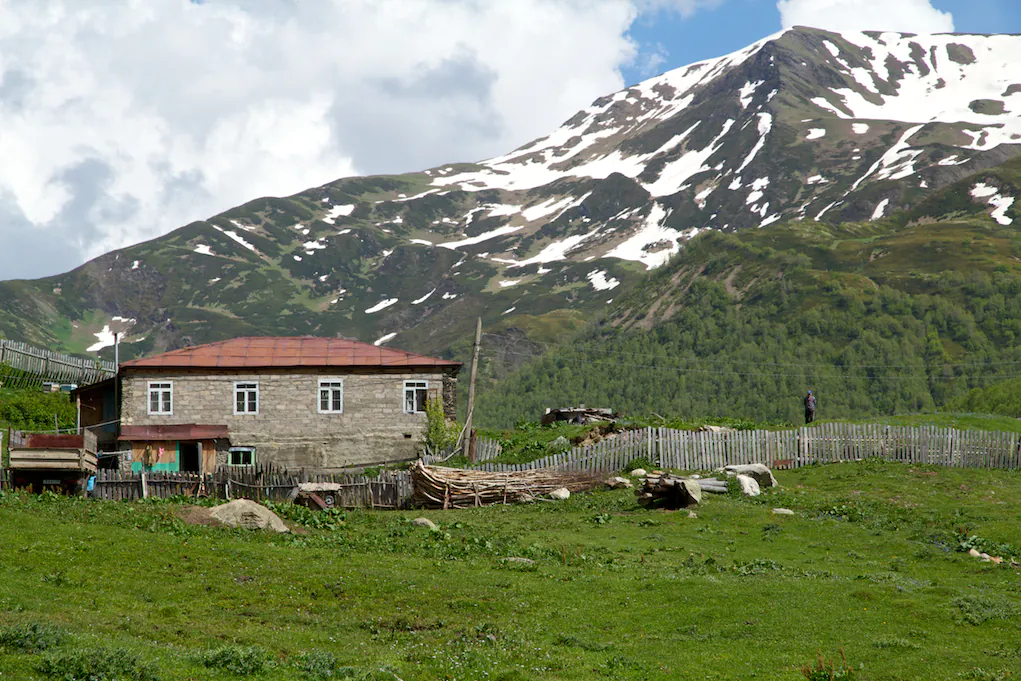 Not a bad backyard, eh?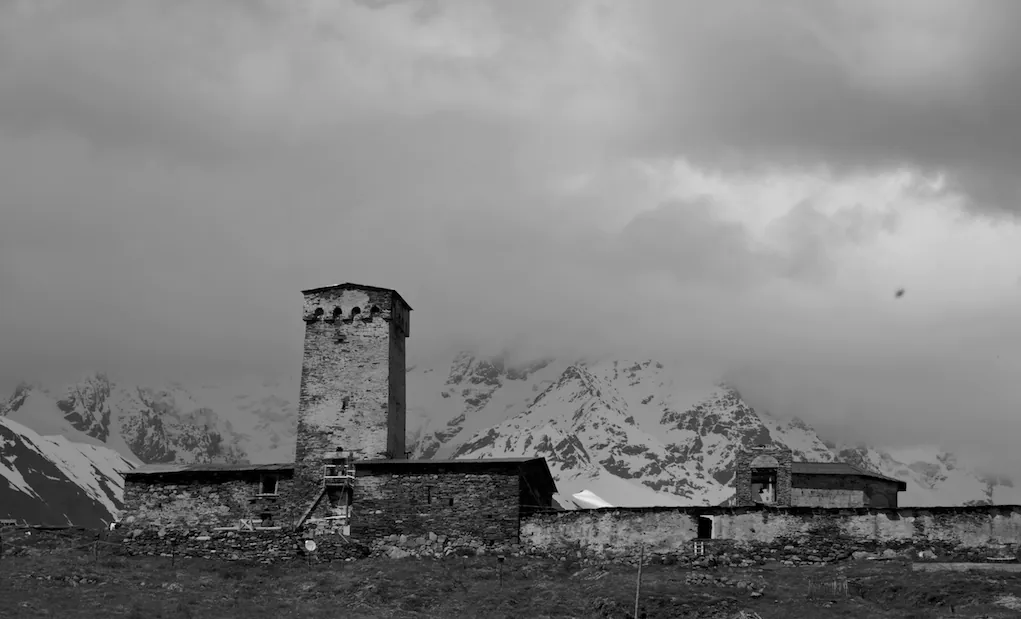 Another shot of the Queen's ancient residence.  Those mountains were gorgeous.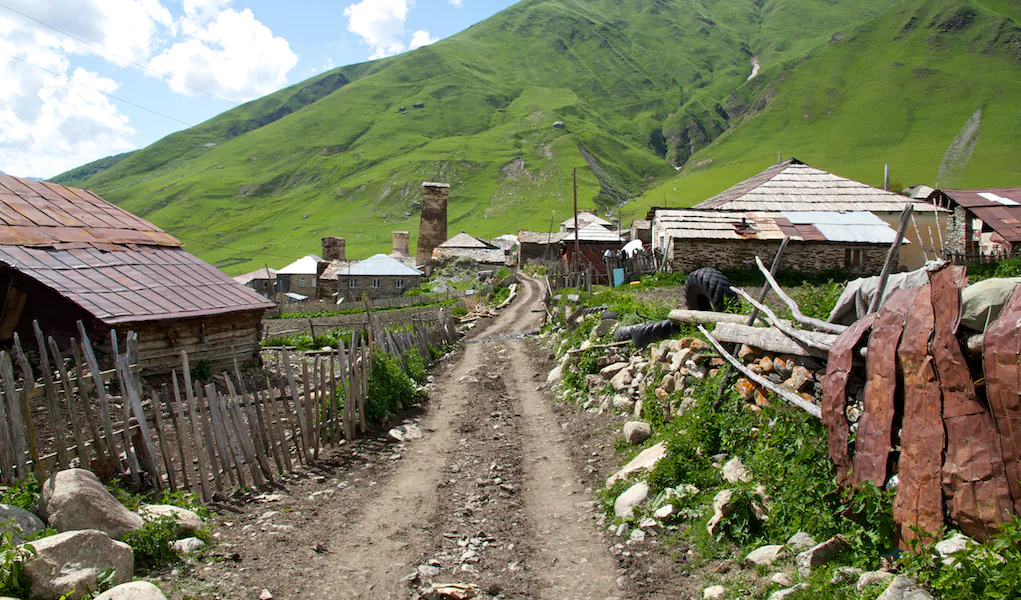 Walking into the second pocket of Ushguli – the same path shown in the first picture.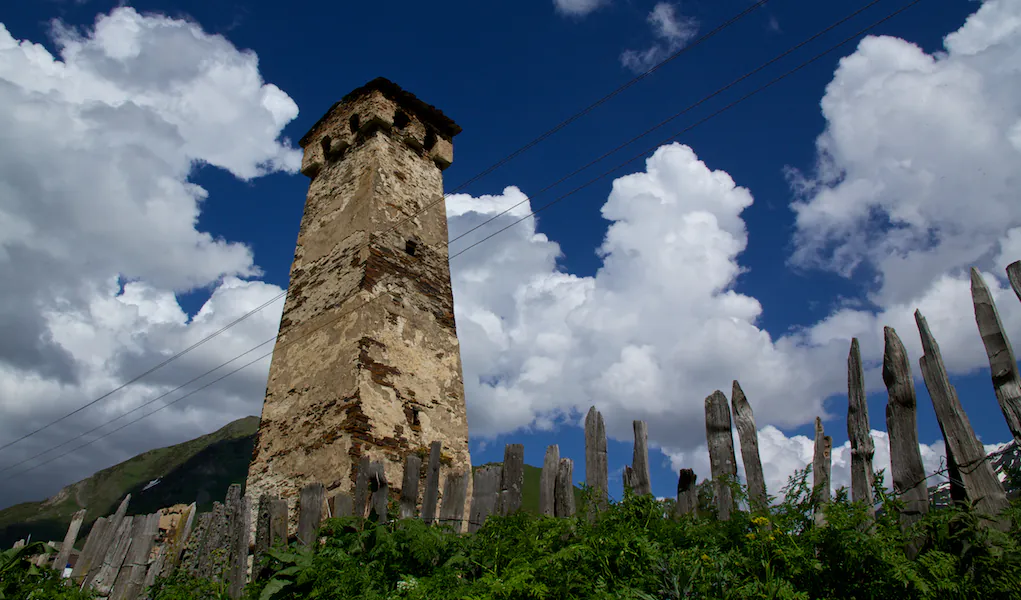 Another iconic Svaneti tower, contrasted with a deep blue sky.  While getting a shot like this wasn't difficult, I did have to make sure to not step in any mud or cow poop laying in the path!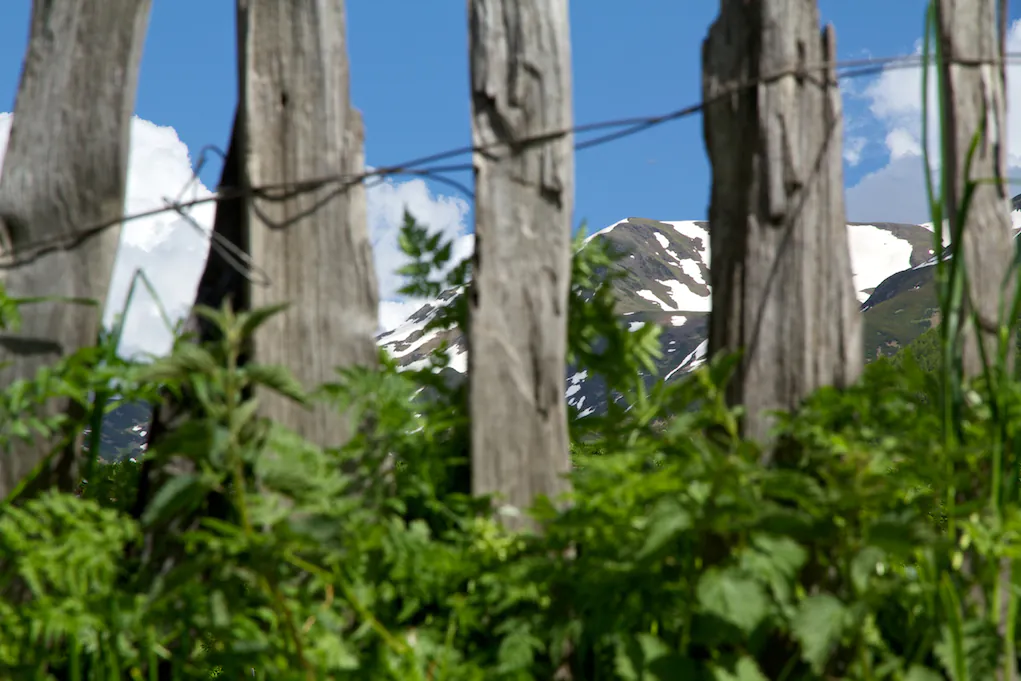 While having blurry foreground elements and focused background elements can often be in poor photographic technique, it works well if you want to give a "hiding" effect for the thing in the back.  It looks nice here I think – your thoughts?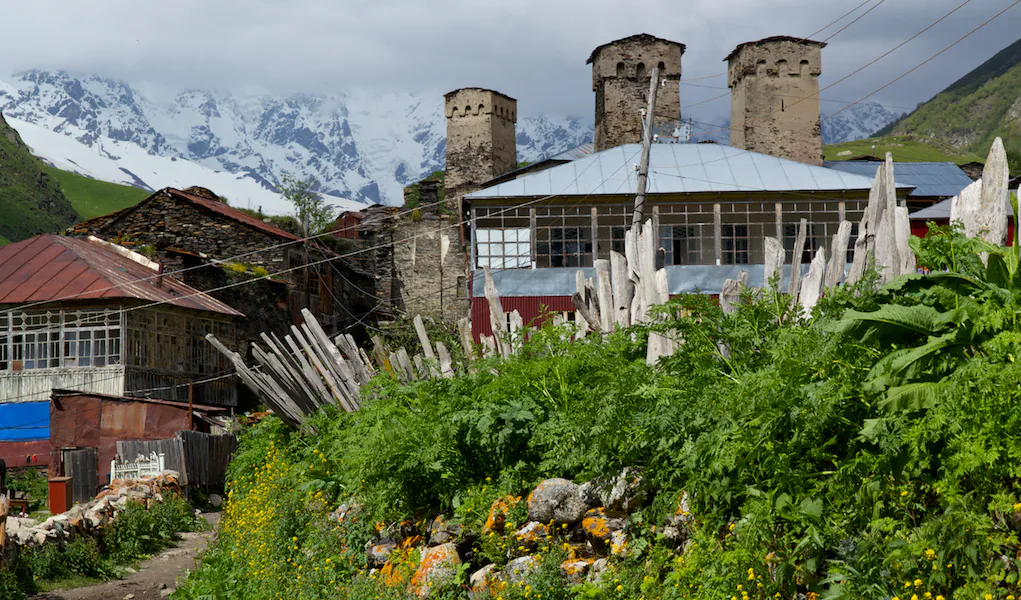 A pretty busy shot.  I found this place to be just gorgeous.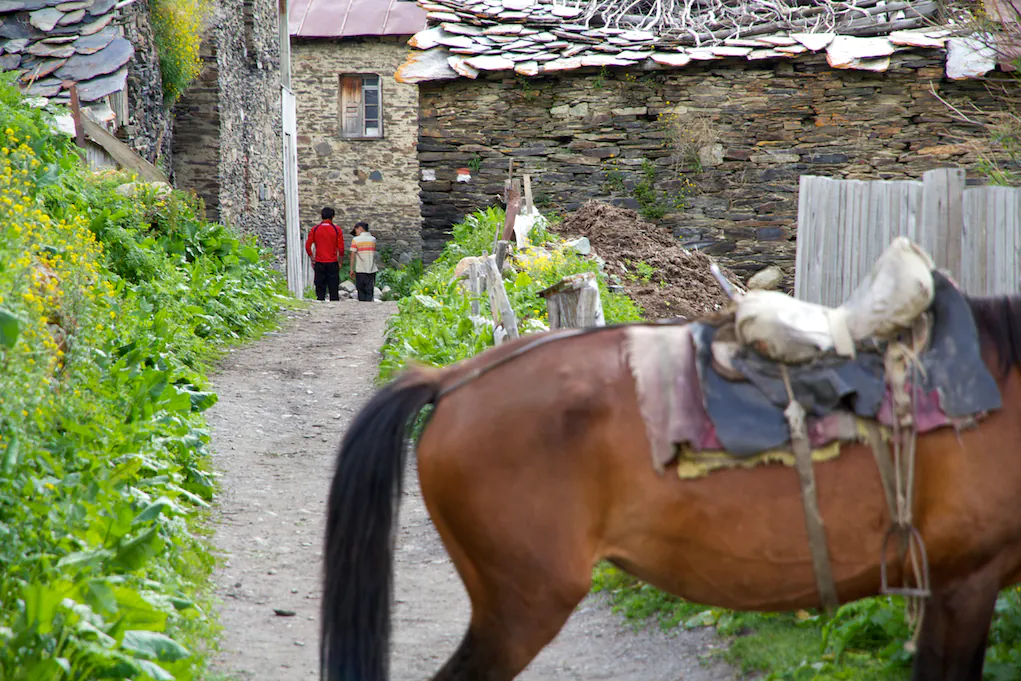 Local boys would ride horses through the path.  After many miserable encounters with savage dogs on my bike, I'm just about turned off to all animals forever.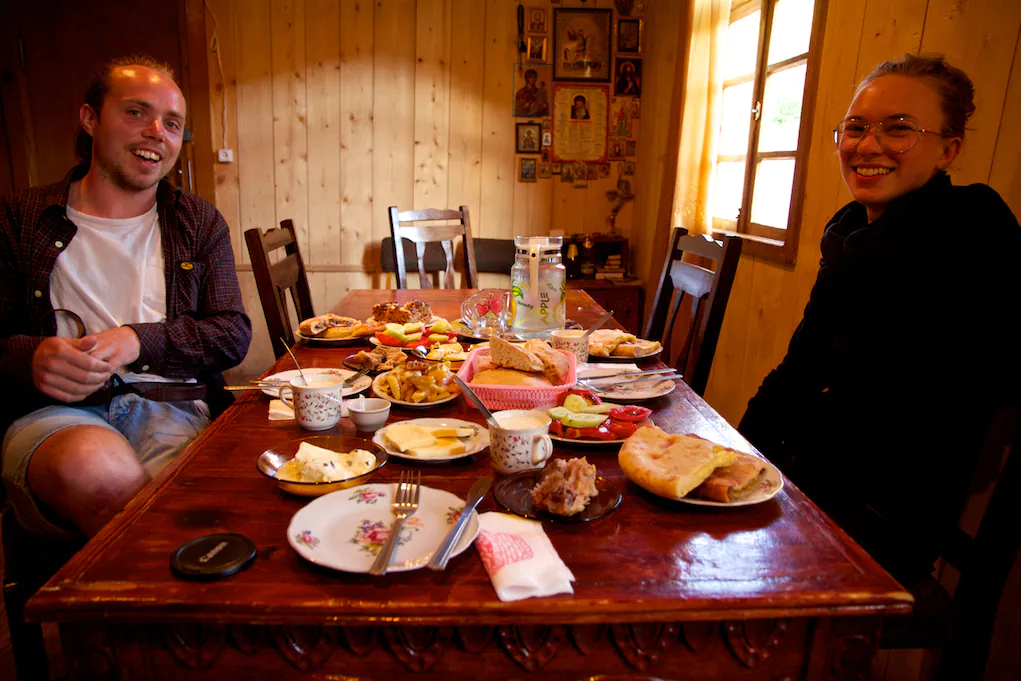 Ushguli was equally nice, because there were other common-language-speaking tourists!  I made friends with a large group of French travelers, as well as the two Swedes shown here.  Instead of camping, I stayed in a guesthouse, since I arrived soaking wet – just like in Mestia – and well-deserving of some creature comforts.  Dinners and breakfasts were included in my accomodation, and were always elaborate.  In addition, a lot of what is on the table came fresh from the farm – milk, yoghurt, cheese, tomatoes, cucumbers, and meat all included.
Once more, Ushguli really was one of the more stunning places I've ever been.  I have many more photos to share, especially those from the descent down the other side.  These will come in a future post.  Enjoy!