For the Central Asian cyclist, there's three ways around the Caspian Sea.
First, the cyclist can head north, navigating the Caucasian autonomous regions – Dagestan, Chechnya, Kalmykia, etc., and onwards into Russia – which requires both bureaucratic gymnastics on the traveler's part, as well as a tedious Russian visa.  Few explore this option.
Second, the cyclist can head south, crossing what travelers rave to be one of the most fascinating destinations on the planet: Iran.  Although this country packs its fair share of desert, and a solid punch of backwards conservatism, it promises incredible architecture, delicious food, and some of the friendliest people on the planet.  Unfortunately, Americans must enroll in a guided tour to obtain a visa; cycling, independently, as an American would be a near-impossible endeavor.  Plus, I have an Israel stamp in my passport.  Iran will have to wait.
The third option for passing the Caspian Sea is to go directly through it.   From Baku, Azerbaijan, a schedule-less ferry takes the errant cyclist across the water to Aktau, Kazakhstan.  It took me 2.5 months and 3,500km of cycling to arrive in Baku from my starting point of Istanbul.  My destination was Bishkek, Kyrgyzstan.  Crossing the Caspian was the midway point of my trip, and the Baku Ferry was my ride.  Logistically, the boat is the link between the Caucasian countries – Georgia, Armenia, Azerbaijan, etc – and Central Asia.  On the former side, there is civilization, infrastructure, and the faint flavor of Europe, still not too far off.  On the latter, however, there is a whole lot of f*cking of desert.  Therefore, symbolically, the Baku Ferry represents something more: Welcome to Central Asia, baby.
The Kazakh Desert leg – a 500km stretch of sand and camels, starting in Aktau, Kazakhstan, and ending at the Uzbekistan border – is one of the most difficult parts of cycling Central Asia.  There is sand, camels, monotony, and not much more.  The road is garbage, for the better part of the journey.  Places to buy food and water pop up once every ~50 kilometers.  At midday, temperates top 42 degrees Celsius (108 degrees Fahrenheit).  The cyclist must be resilient, and must be prepared.   He/she should probably bring music as well.
The following photos document my journey from Aktau, Kazakhstan to Beyneu, Kazakhstan: 500km of cycling through the Kazakh desert steppe.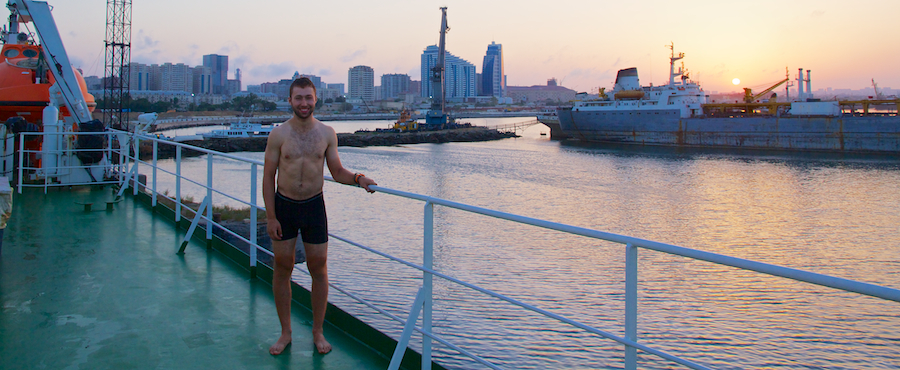 Our story begins in Baku, Azerbaijan.  I spent 10 days in Baku, collecting visas for upcoming Kazakhstan, Uzbekistan, and Tajikistan.  The day after my final visa was ready, there was a ferry leaving for Aktau.  Myself, and two others I met in town – Hugh from Ireland (cycling Ireland to Burma), and Fred from France (cycling France to Thailand) – arrived at the ferry port at 3pm, as instructed.  We waited.  The boat eventually boarded at 5am the following morning, and left for sea around noon.  The picture above shows me waiting on the deck, just after boarding, and getting ready for a quick snooze as the sun is rising.  Baku is in the background.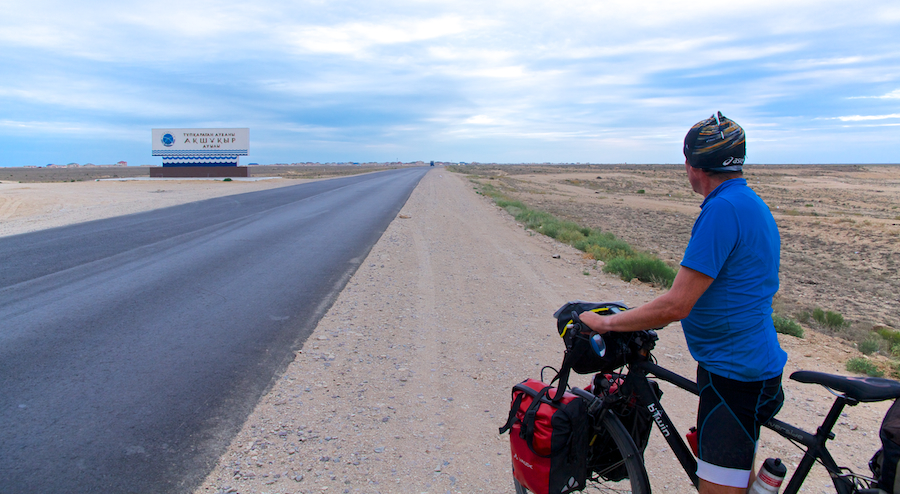 The crossing itself took 26 hours, and once we arrived in Aktau, just a few kilometers from shore, we waited another 24 hours before we could actually dock.  After 6 additional hours of customs, and registering with the immigration police, we were finally free to go.  Hugh, Fred and I took a late dinner, and set off into the desert.  We'd camp ~20km from town, and get an early start the following morning.  Pictured above is Fred, staring out onto the open road.  As you can see, the pavement is good thus far.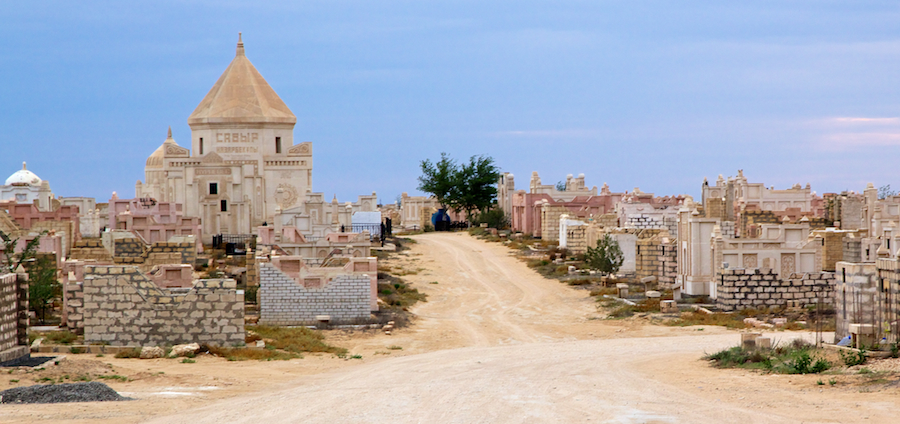 The desert did not pack many stunning visuals.  However, I found the cemeteries rather cool.  This particular cemetery is close enough to civilization – maybe 50km from Aktau – so it makes sense to lay the dead to rest in such a spot.  However, we found many similar cemeteries along the way, which were far, far further from any trace of civilization.  Perhaps, bringing the deceased into the middle of nowhere has a certain spiritual significance as well?  I never quite found out.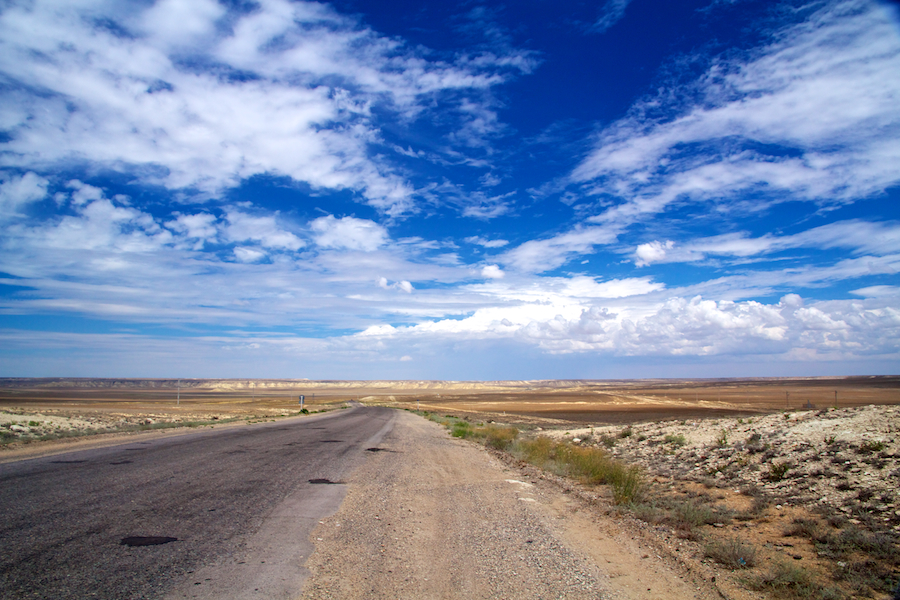 Another shot of the open, open road.  This photo was probably taken ~100km from Aktau.  There was not much more than green shrubs, brown shrubs, electric lines, and a vast blue sky.  As you can see, the pavement is still in respectable condition.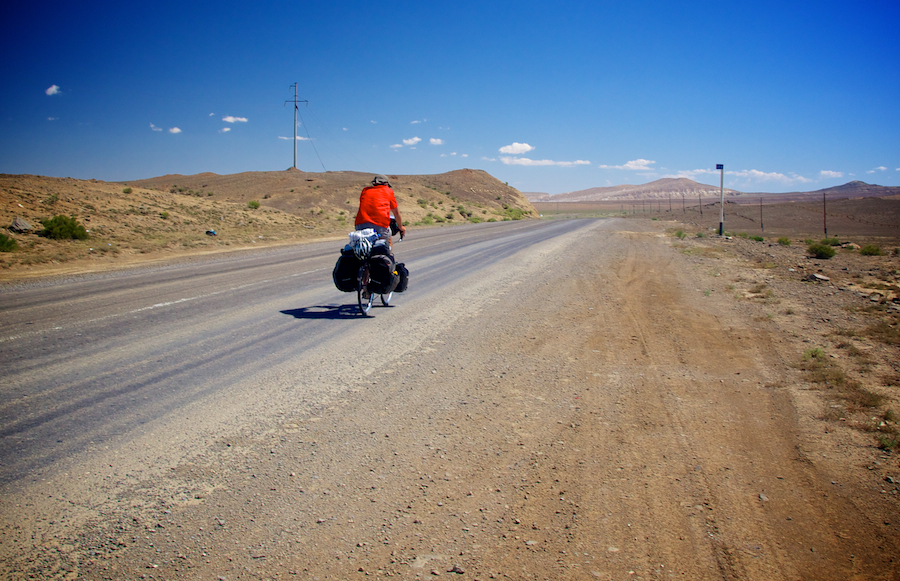 A bit further down.  Hugh powers forward.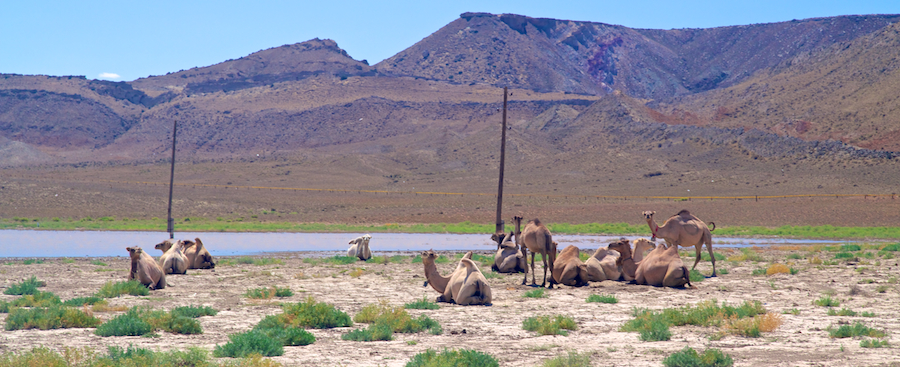 Of course, there were camels – there's always camels in the desert.  Most of these camels are tagged, and belong to nomadic herders living among the brush.  We didn't meet many of these herders, though.  We mostly just met truckers.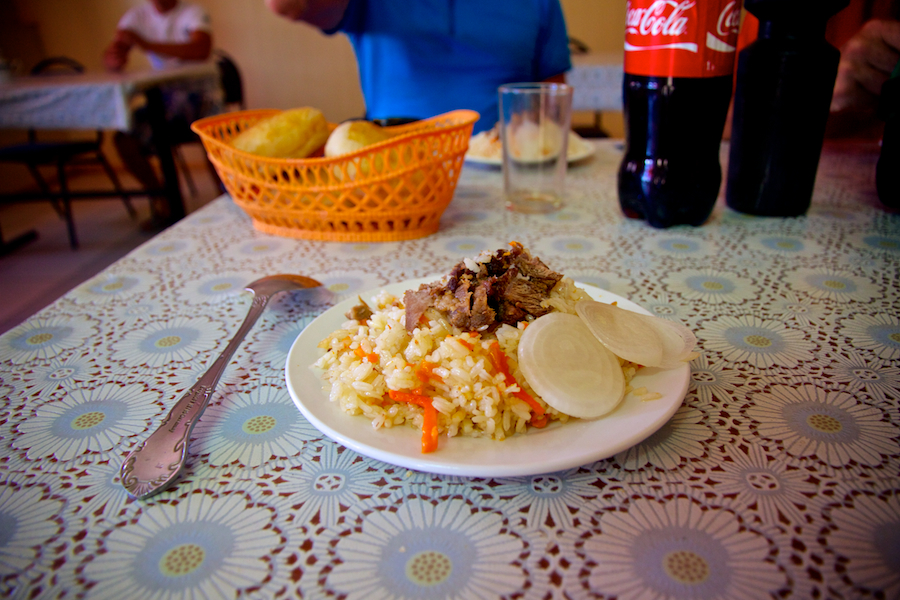 One of the major challenges of cycling the Kazakh steppe is obtaining food and water.  As mentioned earlier, one can buy food and water every ~50 kilometers.  Unfortunately, these distances are a bit too great to just "wing it": the cyclist needs to plan.  While in Baku, Hugh, Fred and I scoured blogs, figuring out just where each food and water stop would be.  In addition, we outfitted our bikes to carry more water than usual.  Generally, I cycle with just two small bottles, capacity 1.8 liters; in the desert, I brought enough bottles to carry 10 liters.
When water/food was available, it was served up in regional establishments known as "chaihana's," or tea houses.  Later, I would find these to be an important staple of Central Asian culture.  For the long stretches in between chaihana's, we had to carry supplies.  Often, my bike would be packed with 5-10 kilo's of water and food.  We drank responsibly, and cooked ramen on our stoves.
Pictured above is a plate of plov – rice cooked in lamb fat, carrots, onions, and lamb meat – a dish common to the entire sub-continent.  It was one of the more palatable options, and one of maybe three things I knew how to order.  Sadly, it was only available in a select few chaihana's.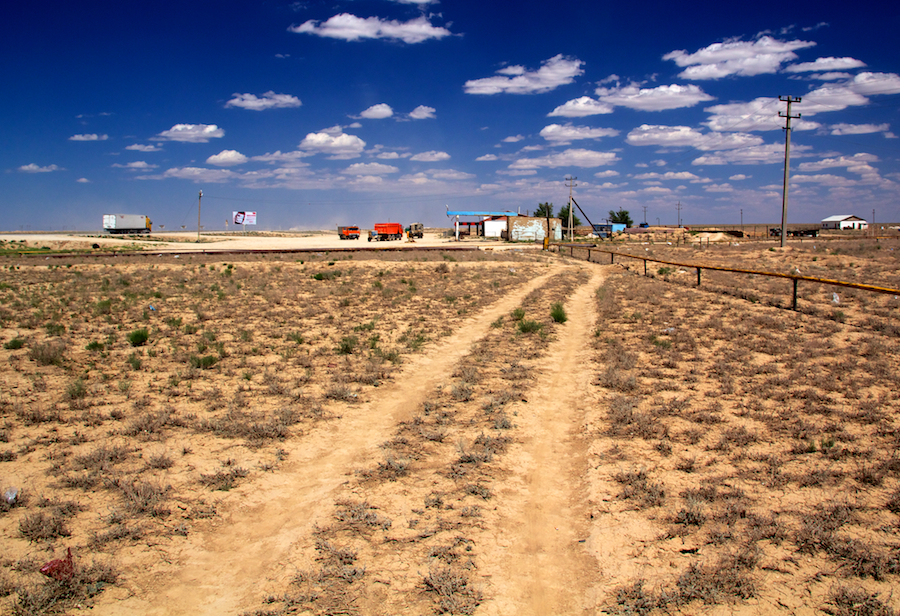 Here is an example of your typical chaihana.  Basically, they were run-down, one-room cement buildings with a kitchen inside.  Sometimes, they sold gas as well.  Truckers were often found parked out front.
As the reader, you may look at this structure with a frown.  However, for us, spotting our next chaihana was a moment of pure elation.  These things were effectively our key to success, and perhaps survival.  Without them, cycling 500km of Kazakh desert steppe would be a far greater challenge (and require a FAR heavier bicycle).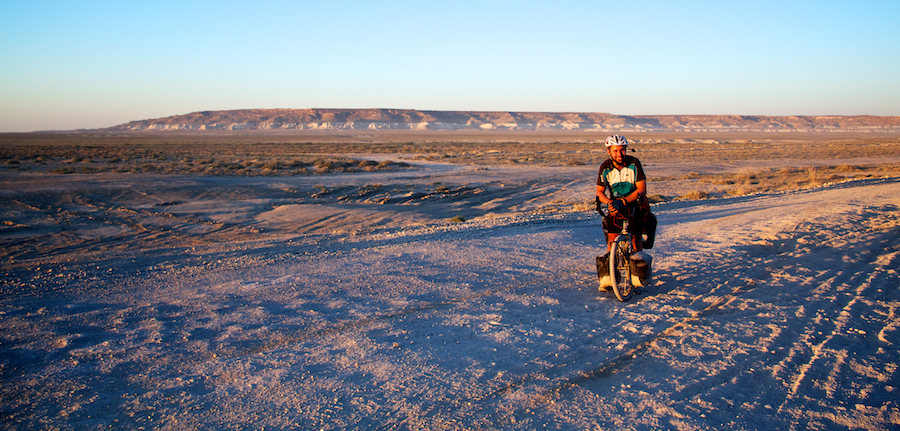 After roughly 240km, the road turned to utter dogshit.  The pavement abated, and we were left with a sandy rocky piste of misery, frustration, and bicycle wear, which lasted for the remaining ~300km to Beyneu.  As loosely shown in the photo, this wasn't the only road either: since the main drag was in such bad shape, cars and trucks would create their own roads off to the side, and weave back and forth to their heart's and machine's content.  Often, Fred and I would choose paths to the left of the road, while Hugh would take his chances on the right.  While the piste wouldn't be terrible in a car, a bicycle is a different story.  It was a bumpy, bumpy ride.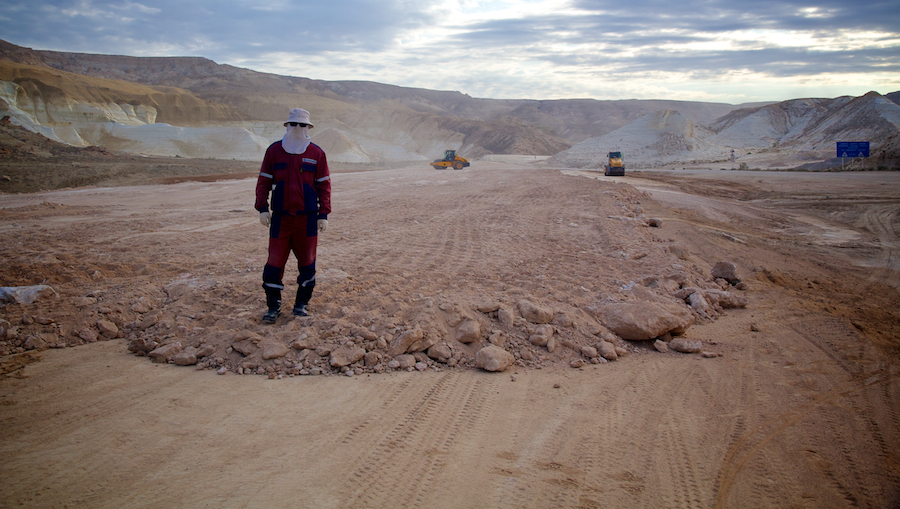 At the time of writing, there is a ton of work being done on the road.  In fact, this road, piste-section included, serves as the main cross-country artery between Aktau and Almaty – one of the biggest cities in Kazakhstan, and almost 3,200km away.  The road workers were a source of information (in sign language, of course), a friendly face, and perhaps a glass of water.  They were always thrilled to see the cyclists riding on past.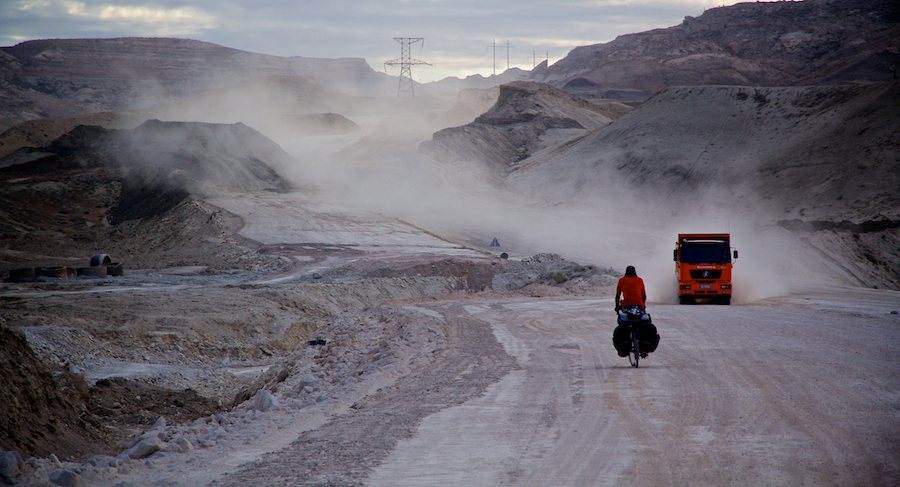 Here, Hugh approaches a huge hill – one undergoing roadwork, certainly – with a toasty, breakfast-serving chaihana waiting for him at the top.
In the desert, there are no hostels, nor hotels, nor campsites.  When the day neared end, we'd turn off the main road, ride a few hundred meters into the open sand, and find a good spot to pitch our tents.  Above, Hugh and Fred survey the ground for some suitable sand, as the sinking orange sun paints the background.
Most cyclists bring tents on their tour.  A few, however, bring hammocks, and Fred was one of these few.  A hammock is mostly great, as it's light, comfortable, and can be assembled almost anywhere.  However, in the desert, there wasn't a whole lot to tie your hammock to.  This was often a point of laughter for Hugh and I.  Fred: "The man who brought a hammock to the desert."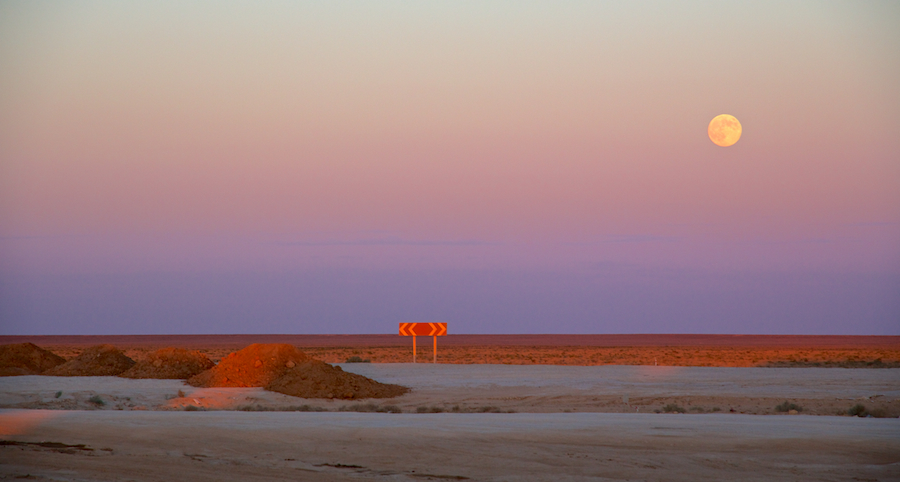 A picture from my tent on the second to last night, just before sunset.  On this night, we slept in a sandy lot just behind a chaihana.  There, we took dinner and beer.  Plov was served!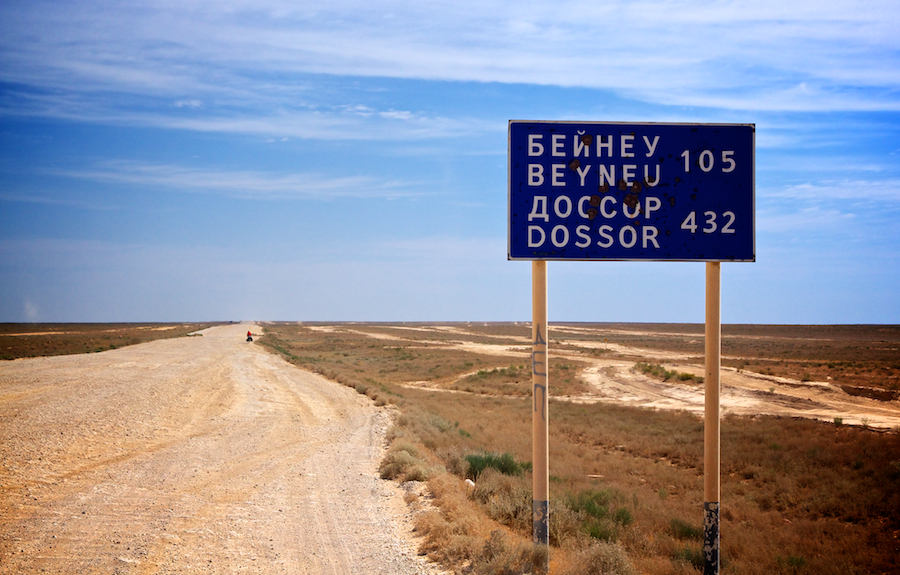 105 kilometers to Beyneu: to a bazaar, to a bed, and to internet.  Lovely shot of the desert.   Is this what paradise looks like?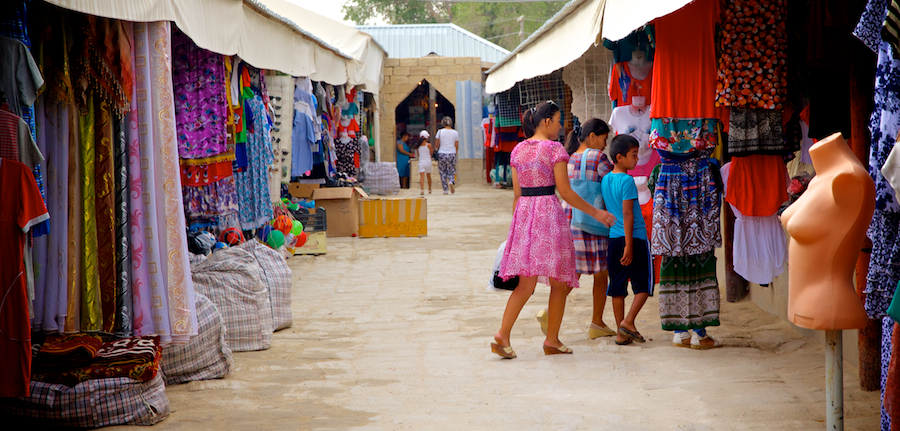 After 5.5 long, difficult days, we arrived in Beyneu, Kazakhstan.  There wasn't much to see.  However, I was able to talk to my family and friends, and buy shampoo and nail-clippers in the market.
From Beyneu, it was ~100km to the Uzbekistan border, and then ~400km more to a city named Nukus – the re-start of civilization.  In those 500km, there were only 3 places to purchase food and water.  However, the road was much better, making it a bit easier.  The scenery didn't change much, though.  Sand, camels, and monotony, just like before.  
Overall, the Kazakh desert steppe was one of the harder segments of my Central Asia bike tour.  It wasn't ostensibly "fun."  It was not a picnic.  Upon arriving in Baku, Hugh actually had no intention to cycle this part: he planned to take the train.  However, after a short conversation outside of the Uzbek embassy while waiting for visas, I convinced him.
"It's doable, you say?  F*ck – I'm in!," he rationed.