Hey all.  This my long, and probably overdue, ode to CouchSurfing – my beloved, wonderful CouchSurfing.  First, however, I'll start this post with what I'm doing.  I'm beginning to like that trend.
At the present moment, I'm in Petra's kitchen in Helsinki, Finland.  Petra and I met in a hostel in Mombasa, on maybe like the 6th day of my trip.  I wrote a post about that night, she found it, we became Facebook friends, and here I am.  Petra is currently at dance practice, and will then go to a fashion show.  I opted out.  The room is dim, as the only light lit is right above my head.  I ate curried chicken and Uncle Ben's rice for dinner.  The rice was under-cooked, as I sort of mis-timed that 10 minute quick-cook-bag thing.  Petra's roommate is here as well, but unfortunately, she's terrifically ice-cold.  It's kind of a shame because she's very cute.
Welcome to my new site, by the way.  This is the new, and hopefully improved, Will's Blog of Travel and Life.  Kindly take a moment to browse around, read all the sections on the menu bar at the top, and if you're feeling particularly heroic, leave me some feedback.  I've put a decent amount of work into this, and feedback/constructive criticism is always appreciated.  Just like on the old site, I'll continue to blog about travel and life, but on this site, I bring you a section for the pictures.  I'll post some of the better snaps there.
That's it for the intro.  On to CouchSurfing.
CouchSurfing is in reference to www.couchsurfing.org, a worldwide community of travelers and good-hearted souls, which currently boasts something like 3 million members.  The central premise of CouchSurfing is the classic "surf," in which the traveler enjoys a free sleep on the local's couch.  The traveler wants to save money on accommodation and have an authentic experience in the new country, and the host merely wants to help out the traveler and listen to their stories.  It's essentially a cultural exchange, or a brief, non-paying "home-stay," organized through the site.
To date, I've surfed something like 12 times.  My first real experience with CouchSurfing was in Kenya, on Day 3 of my trip.  I was on a day train from Nairobi to Mombasa, a 20-hour day train to be precise, and I met Ale and her family in the dinner car.  We became very friendly, and when they heard that I was new to CS, they insisted I stay at their gorgeous vacation home on the Kenyan coast – complete with private beach.  Truthfully, this probably would have went down even if I wasn't a CS member, but yes, it excited them greatly.  This was my first real experience with CouchSurfing.
Next came my first real "surf."  One day in early March 2012, I sat in a lively hostel in Paraty, Brazil, on a old computer with a boxy 19″ monitor and the antiquity of Windows XP.  I sent Mariana a "couch request" through the site, and a few days later, we met at the top of a subway station escalator in downtown São Paolo.  Mariana had some friends with her – 3 I believe.  We exchanged hellos, I handed them the bottle of Gabriella (cinnamon clove cachaça – cachaça is the liquor with which you make caipirinhas) I had brought as a gift, and off we went.
Mariana was an ex-culinary student, and liked to party.  So, for the next few days, we ate and drank and drank and ate.  We ate fish and food from Bahia and gourmet hotdogs and pineapple and cakes and cakes with pineapple.  There was a lot of pineapple.  And food.  And so much more pineapple.  Gabriella, too.  On Friday, we went to a salsa club, whose front door looked like the entrance to a forever-shut municipal utility closet.  My salsa dancing is miserable, but I actually want to say that it has improved since then.  The next night, a different club – I think it was someone's birthday.  One morning, we woke up, had our usual breakfast of pineapple, and went for all-you-can-eat sushi in São Paolo's brightly misplaced Japanese neighborhood, Liberdade.  We went to her university. We met many of her friends.  I was in Brazil, hanging only with Brazilians, doing only things that only Brazilians do.  Shouldn't it always be this way?
São Paolo is a massive city – about 20 million people massive – and as a backpacker who just cruises through for a few days, it's tough to see much of anything.  With CouchSurfing, I had a friend instantly, well I actually had several friends instantly, and I was pumped to be staying with Mariana and she was pumped to be hosting me.  The initial plan was to stay for 3 days, but since I was robbed in Rio and my general sanity demanded a new iPod, and since we overslept the closing of the iPod store at 5pm that Saturday, she happily let me crash until Monday until it reopened.  More Gabriella and pineapple cakes.  Here's a picture of us: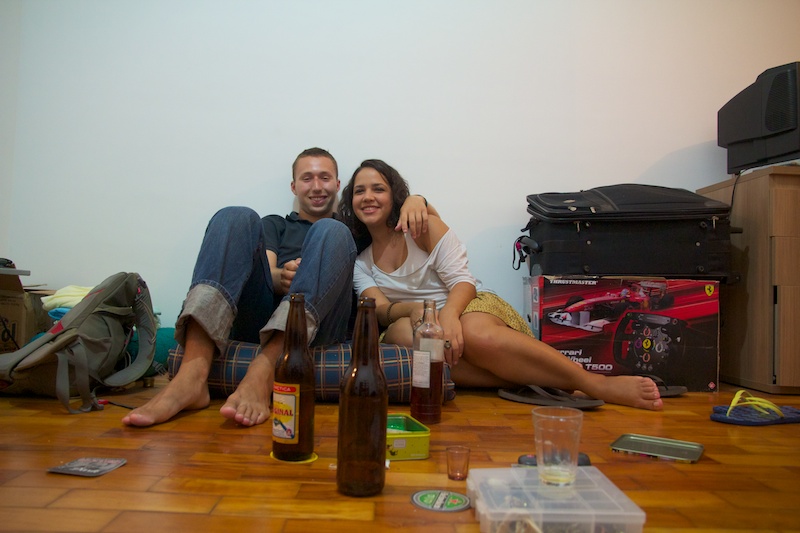 This was my first real "surf," and one of my best.  Mariana and I still talk pretty frequently.  She just told me last night that she might be in New York/Philadelphia in a few months, so I'll definitely be asking friends and family to show her around.
With CouchSurfing, the exchange is not 1-to-1; I'm not necessarily "expected" to host Mariana in my own home, although of course, I instantly will when I can.  Basically, I'm hosted by one person in their place, and then I repay the favor by hosting the next person in my place, when I have one.  That's how this works.
From there, well, I fully realized the awesome of CouchSurfing.  I surfed 5 times in Argentina, including a full month in Buenos Aires split between 4 hosts.  I went for steaks and beers with Martin.  I did some photography work for one of Jorge's clothing lines.  I watched Rounders and talked poker theory with Mariela.  I was given lessons in hitchhiking from Juan and Stefi – and clown noses to use for said hitchhiking.  They disarm people, or something.  I wrote about that one here.
In Colombia, I surfed 4 times.  It started in Medellín with Juliana, whose house doubled as a functional art museum.  Her grandfather was a famous sculptor, and the house held his work;  there were massive sculptures everywhere.  Juliana greeted me with nachos and green mango juice.  Her mother would not rest until I relieved the refrigerator of every fresh-from-the-garden-fruit-I've-never-heard-of juice.  We watched the movie Blow.  She drew me maps of the city, gave me cell phones so I wouldn't get into too much trouble, and introduced me to the crazy lady up the street who used to know Pablo Escobar – and thinks he's still alive.  Lastly, and perhaps most cool, Juliana invited about 6 of her friends over for Rosh Hashanah, and we cooked, sang, and celebrated.  She's not Jewish, but very interested in the culture.  How f*cking cool.
Here's Juliana and a friend making some juice: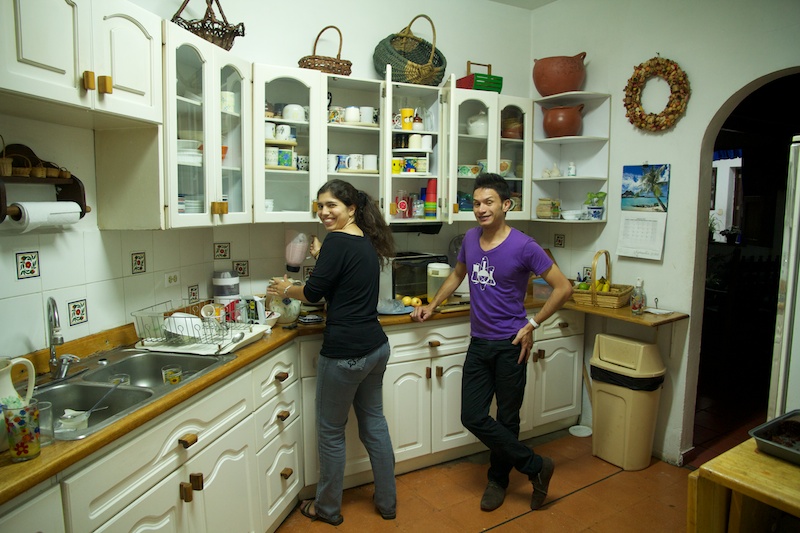 One from the table: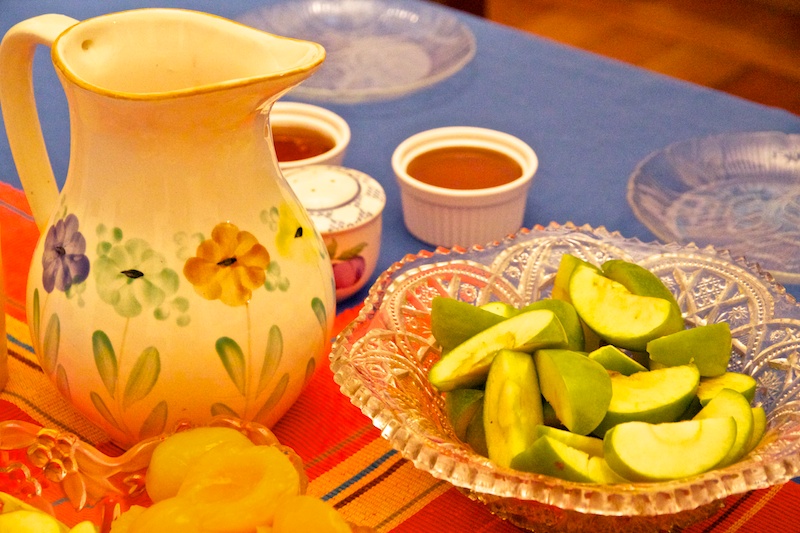 Lastly, one from breakfast – arepas with avocado.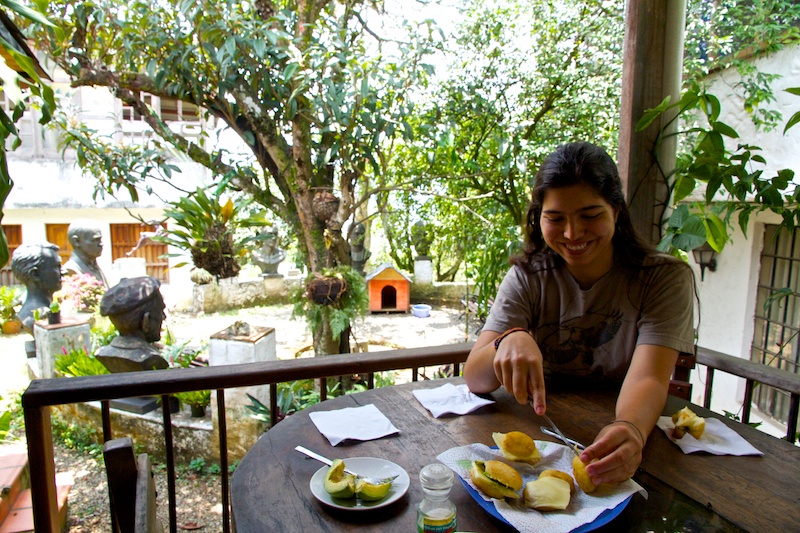 Delicious.  See the heads in the background?  This isn't even from the main house – this was from the grandmother's wing.  Yea – the place was an estate.  There's articles and YouTube videos about it as well.  Salsipuedes, it's called.  Google if you like.
Next, I was off to Carolina's spot in Cali for a long weekend.  Aguardiente (Colombia's national liquor), salsa dancing,  law homework, practicing our French, and unhealthy breakfasts.  Carolina had some tests that week, so I quickly moved to Angelica's, who I was put in touch with by Clare, a girl with whom I traveled for a while that I initially met through a CouchSurfing event in Argentina.  I write about that one here.  Finally, it was Nikolás in Bogotá.  More excellent experiences, instant friendship, and doing things I simply would never do staying in hostels.
On the whole, I credit CouchSurfing with some of my best experiences on the trip so far.  I've been literally shat on with hospitality.  I've been given so much food, so much warmth, so much energy and so many new opportunities I can barely count.  Well, I'm sure I could count them if I tried, but the list would be long.  A really long list of total strangers treating me as family.
People often ask me about CouchSurfing, about what it is and why it is and if it's safe.  I'm asked a lot, and unlike some other "macro'd" conversations I often have, I never shirk this one; I always give the full run-down.  I really feel like I owe it to the site, and to the community.  So, as the reader, I'm sure you have questions too; let me try to answer them as best I can.
Do you feel safe?
In every CouchSurfing experience I've had – hosting twice at Penn State and surfing ~12 times – I've felt incredibly safe.  Every CS member has a profile, and before you set up a surf/host, you take the time to read their profile, and their references.  If there are 20 people, each with a multitude of references themselves, saying that the person in question is a lovely individual, then chances really are that they are a lovely individual.  Of course, CS is a risk, but if you take the right precautions, you'll almost always have a great experience.  So no, I have never for 1 second felt any modicum of discomfort.  The site is also thoroughly monitored by those who run it, so when a negative experience is reported, it's made very clear on that person's profile.
Is it free?
Yes, CouchSurfing is totally free.  They ask for a $25 donation to get your location "verified," which is an extra precautionary step to make sure you are who you say you are.  It's not mandatory, though.  But apart from that – no.  CouchSurfing is totally free.
However, I must say that I often feel like I spend more money CouchSurfing than staying in hostels.  With my hosts, I'm always partying late, bringing them gifts, cooking big meals, and things like that.  When Mariana says let's go to the Japanese neighborhood and get $40 all-you-can-eat sushi, you're probably not going to say no.  The site is built on respect and honesty, though, so it is very acceptable to voice exactly what you can and can't afford to spend.
If I surf, do I have to host?
No, you don't – there is 0 obligation to do so.  However, if you've surfed 20 times, you'll probably genuinely want to host others.  But really, there is no obligation whatsoever.
If I'm not traveling, and I'm not comfortable hosting, can I still use CouchSurfing?
Excellent question.  While "surfing" is the main premise of CouchSurfing, there are so many other uses for it.
First, there's activities.  If you live in a relatively big city, there's a strong chance that a CouchSurfing community exists.  If it does, activities are often organized.  In most cities, there's a weekly CS meeting.  You go to a bar, meet new people, and drink.  Ever done that before?  In addition, there's lots of language events, like where you go to a bar, meet new people, speak a designated language (Spanish is a popular one), and drink.  In Philly, I've seen activities for a city wide game of capture the flag.  There's flash mobs – concerts too.  Hippie stuff, kind of.  There's always something going on.
Next, there's groups.  Activities are usually organized through the groups.  But if you don't want to participate, but are looking for a new roommate, a concert ticket, a bicycle, etc, CouchSurfing is a great resource.
Lastly, if you're traveling, and want to meet locals but don't want to stay with them, you can use CS to do just that.  When you make a profile, you list whether your couch is open, whether your couch is maybe open, or whether you're just down for a coffee/drink.  When I was with Peter (kid I met through CS) in Bahia Blanca, Argentina, we met up with a few CS'ers there and drank matté in the park for a few hours.  We were staying in a hostel.  I was sleeping in the laundry room that night, I think.
Don't people just use it for sex?
I'd be lying if I said this was not the intention of some.  I've heard some weird stories from some girls as well.  Clare's host bought her flowers in some pathetic attempt at casual romance, once.
Personally, well, when I look at a girl's profile, am I thinking in my head if she's cute or not?  Of course I am – this is only natural.  Have relationships sprung from CouchSurfing?  Sure.  But this is not the point.
CouchSurfing is not a dating website.  We use CS for new experiences, and to meet new people. When searching for a host, you read their profile thoroughly, and if you really think you have something in common with them, you send a request.  The community is, again, built on honesty and respect, so on the very off-chance someone does make you uncomfortable, you stand up, look them in the eye and say "I'm sorry, but this is not working for me.  I'm going to stay somewhere else tonight."  It's never happened to me, like never anything close to that, but it can happen.  And when it does, you stay assertive and stand up for yourself.  It's a skill we should all have.  And lastly, when bad things do happen, it's plastered right on the person's profile, and hopefully exiles them from the community entirely.
So yea, that's my pitch.  Please let me know if you have more questions, and I'll be more than happy to answer them.
A lot of people I know are bored with their lives, and/or really want to travel.  If this is you, and traveling is not an option right now, I couldn't recommend CouchSurfing much more highly.  It's an incredible avenue for meeting new people, speaking other languages, doing funky things, and simply interacting with others interested in the very same stuff.  Seriously, if you're bored, check out your city's next weekly CS meeting.  It'll be you, new people who want to be your friend, a bar, and drinks.  It's college all over again – with a bit more diversity.
On the flip side, if traveling is an option, or you are currently traveling, please try CouchSurfing.  I've already explained why, of course.  But furthermore, there's tons of travelers out spanning huge distances, and simply couldn't afford to do so without CS.  I've been staying with friends (and sleeping in the car) for the last month in Scandinavia, but if I wasn't, that's another $1,000+ out of my pocket.  Hostels are really expensive here.  So, if money is what's preventing you from traveling, CouchSurfing is your solution.  Accommodation will be your biggest daily cost when traveling, and with CS, you won't be paying for it.  This is how many people are enabled to go do amazing things in bright new places.  It's really cool.
To conclude, I link my CS profile, found here.  If you want to make a profile yourself, mine will give you a good idea of how to get started.  Additionally, I'd be thrilled to leave you your first reference.  So long as you're not a weirdo with a cold heart.
Once more, I thank you CouchSurfing.  For the friends I've made and plan to see again, for the hospitality, for the things you've taught me, and for the experiences I simply would not have had staying in a hostel.  I look so very forward to where you'll take me in the future.
Heading to Estonia tomorrow to see an old friend from Australia,
Will
Do you have any experiences with CouchSurfing?  What were they like?  Leave in the comments below!