Here we go.  I sit in Reykjavík, the capital of Iceland.  I'm in a bookstore with Daniela to my right.  Daniela and I, and some others, just got back from a great roadie.  We circumnavigated the island of Iceland.  I stare out of a window on the second floor.  The post office stares back.  It's a large red building – crimson red, even – and it says Íslandspóstur on the front.  I can't pronounce it correctly.  Icelandic is a cool language, which sounds to me like a mix of whispering and blowing bubbles in the swimming pool with your face half-submerged.  This is why I find it cool.  The sounds.
In this post, I'm going to write a bit about our roadie, and some other stuff since my last.  I've been bad about blogging.  I feel like I always start off my posts by apologizing for being bad about blogging.  Again – yes – I apologize.  I owe literature – to you and to myself – regarding my experiences WWOOFing in Colombia and teaching in Colombia.  I'd like to put together some general muse about backpacking in South America, as a whole (or half, I did half), as well.  In time.
From October 2nd to October 11th, I was in the United States.  This had been planned for a while.  I was chatting with my mother on Mother's Day, as good sons do, in a hostel in Buenos Aires, and at the time, I was planning to depart from South America in early September.  When I booked the initial flights for this trip, one was from NYC to Reykjavík on June 3rd; I thought I'd leave South America in late May, and then head to Iceland and the midnight sun.  By the time Mother's Day rolled around, it was obvious that this would not be happening.  Because NYC is close to Philadelphia, my mother suggested that I stop home for a few days.  I really didn't want to.  I didn't want to see my friends, or eat my favorite foods, or sleep in my own bed.  But for the right reasons, I like to think.  It kind of felt like cheating.  Part of the trip is that extended feeling of extended distance, that you're without your comforts and crutches and Delancey Street bagels.  And the longer that feeling lasts, the more of a challenge backpacking becomes.  I wanted that challenge, and I didn't want to cheat.
As mothers do, mine came up with a strong solution.  I stay in South America until early October, and then head to Chicago, to attend my cousin's Bat Mitz.  That way, I could see my family, but not actually go home.  It was decided – quickly.  Later, well, we realized it would be an equally strong idea to visit the dentist and the doctor, and this is most easily accomplished in Philadelphia.  So I was home – home-home – for 3 days.  Drew knew, Marty knew and Bryan knew, but nobody else knew.  I don't think.  I returned to Philly late Sunday night, and proceeded to surprise my friends.  Protas opened the door to Drew's.  Then I went to Leo/Reib's.  Reib brought a baseball bat to the door.  Who else is knocking at 1:30AM?  Then Andy/Levin.  We chatted until about 4:00AM.  It was great to see everyone again.  A bit weird, but mostly great.  We played some trivia, drank some beers, ate some pub wings and put music on the jukebox.  I really saw a lot of people.  Lots of family friends as well.  The only thing I didn't do, that I wanted to do, was go to Wawa.  10″ Classic Meatball, with provolone, is my order.
Apart from the great, home was a bit weird, as I mentioned.  I made this good friend in Colombia, and I've told her a few times that I want to tell her why.  I haven't yet, but when I do, well, I'm still not sure what I'll say.  Why was home weird.  I felt a bit different at home.  That's when the culture shock hits for me – when you're back to affluent reality.  I felt different because I realized I don't care as much about material items.  I realized I like iPhones but I truly don't need one.  Maybe this is what happens when you've been wearing the same 3 t-shirts for 9 months.  I realized routine kind of scares me.  This is possibly more negative than positive.  Most of my friends are into routine.  And I realized that the idea of a routine really makes me uncomfortable.  I reiterate once more that I was very fortunate in my teenage entrepreneurial dealings, such that I currently have the resources to choose to escape such stricture.  I know I'm fortunate.  Believe me when I tell you that I know.
When I was home I realized that I had changed since the trip started.  I can't quite describe how, at least not in a manner than I could defend and grace with examples and specificity, but I was certain that I'd changed.  I didn't really have much to say.  I was much more inclined to listen rather than speak.  I snapped back into home-life pretty quickly too.  I felt like I'd never left.  Perhaps this is because I've become very adaptable – maybe that's it.  Maybe not.  The world is small too – maybe that.  But I've always known that.  The only thing I knew for sure was that I wanted to get back on the road – that I wanted more.  More experience.  More knowledge.  More time speaking Spanish and the chance to bring my French back to the top.  More friends and trying and failing, more buses and doing things that scare me.  More sleeping in a tent and in the car and in my sleeping bag.  More discomfort.  I knew I wasn't done.  And perhaps, maybe I won't ever be.  The more you see, the more you realize that you don't know – that you thought you had a single microcosmic clue about people and the world and just simply didn't.  Maybe that's why I felt a much stronger urge to listen rather than talk – because what the f*ck do I know?
After Philadelphia, I went to New York City.  I saw my cousins.  I ate a bagel with whitefish salad.  I got sushi with Victoria.  I always love returning to New York, and I always ramble to those who've never been about its excellence and uniqueness.  Daniela knows the speech.  She gets it often.
On October 11th, I headed to the airport.  I got there way too early.  Sub-conciously on purpose, probably.  Because I love airports.  I find them very romantic, for some odd reason, and just plain exciting.  I could sit in airports for a while.  They called my flight, and it was time to go.  There were lots of people heading to Reykjavík for like, bachelor parties.  Weird.
The play in Iceland, if you want to see more than the capital, is a car.  You also want to share the costs of this car.  So I took to Lonely Planet's Thorn Tree forums.  I'd never used them before for this purpose.  I quickly found Daniela from Germany, Lucia from China, and Ari from the Canary Islands.  Ari had already rented a car, and was just looking for people to share costs.  But not even the cost of the vehicle – just the gas.  We drove the Ring Road for 8 days, and my share of the gas probably came to something like $80.  And that was that.  The car was rented on dates perfect for me.  Ari doesn't speak much English, so we'd speak Spanish and I'd translate for the girls.  It's funny how this stuff works out.  In Reykjavík, I've been staying with a school friend's friend, who he met when he was in Reykjavík.  My host's name is Ahmad – he's originally from Jordan but now lives here.  He's truly an awesome guy.  And he couldn't be any friendlier.  I'd certainly never met Ahmad before, and the truth is that the first friend doesn't exactly know my deepest and darkest secrets.  Regardless, I feel as if I have a home in Iceland.  It's funny – truly warming – how this stuff works out.  Maybe it's not an accident.  You wouldn't be remiss to put your good-conscienced blind faith in welcoming strangers.  This has been my experience so far, at least.
On to the roadie.  I arrived in Iceland last Friday – saw some live music, ate hot dogs (the only affordable food), ate minke whale with Ahmad in a dive-y restaurant that my dad would have really enjoyed (one of my family friends gifted us that one), listened to CD's on Walkmans in a record store – and the roadie began on Sunday morning.  It was a lot of driving, really.  I think that is the point, though.  At least in winter.  It's cold in winter.  The car was manual, which I don't drive.  I need to learn – I feel foolish not knowing.  As foolish as I feel for walking up to the hot dog counter and asking the person behind if they speak English.  Icelandic is hard though.
Hæ, ég heiti William, og ég vil eins og pylsu með steiktum lauk og sinnep, takk.
That's "Hi, my name is William, and I'd like a hot dog with fried onions and mustard, please."  Not so easy.
Anyways, we drove.  We first drove the Snæfellsnes Peninsula, and then stayed in Sæberg.  We sat in a hot tub outside.  We watched the northern lights.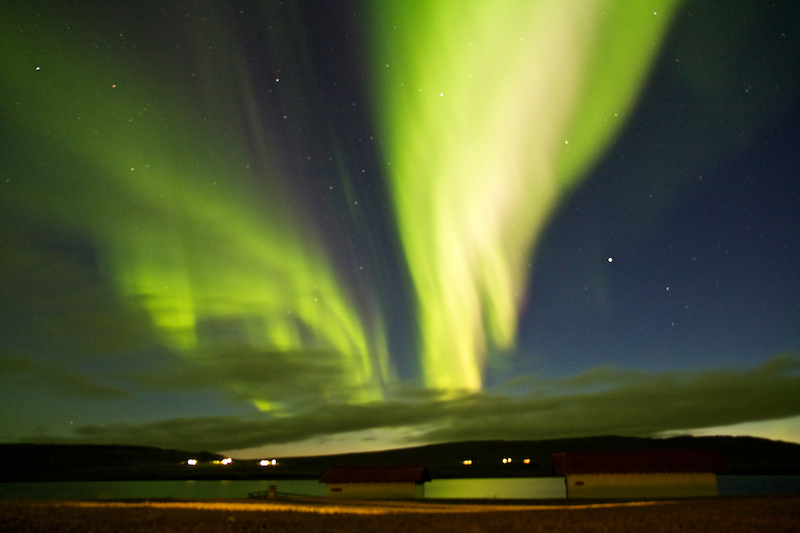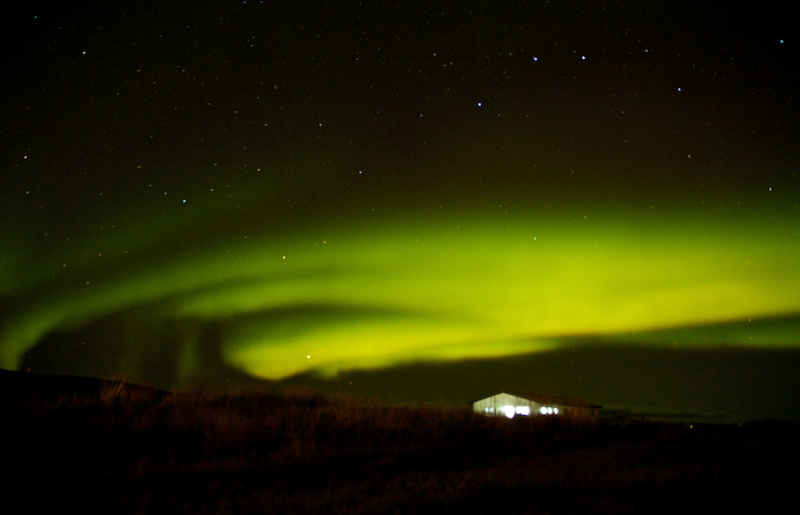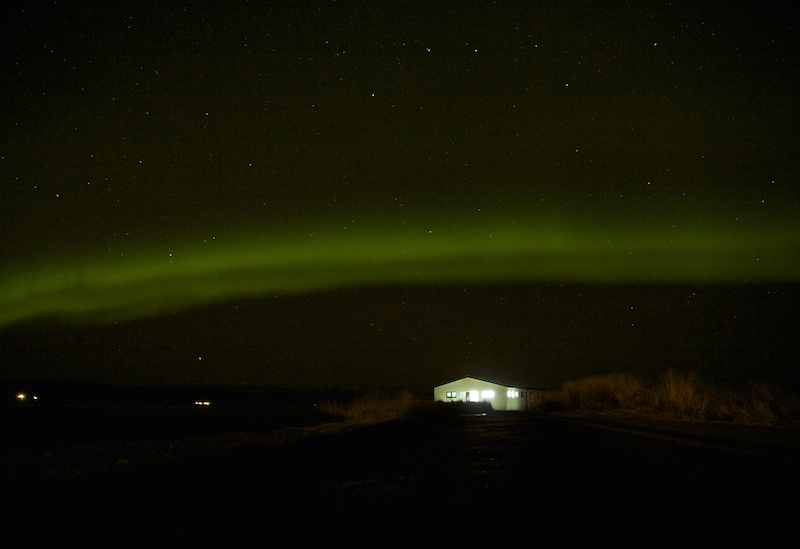 They danced around like cotton candy on a windy day.  Like a candle flame flickering.  They were ridiculously beautiful.  And other-worldly.  That doesn't look like our world, does it?
I brought some whiskey along, and poured glasses for a Swiss couple we met.  They reciprocated with chocolate, from Switzerland, and a CD.  They were musicians.  We listened to the CD in the car most days.  It was in French.  I slept in the car more than half of the time, too (the other half was slept on the floor inside, or on a couch).  The car is free.  And it's weird too – I've slept in much worse, far colder places.  It's not new for me.  But I've never slept in a car right outside of a cozy hostel – that was new.  And it just felt different – my heart was beating a bit faster.  Just from the novelty.  It was the same when I camped in El Chaltén, Argentina, like in the town, instead of staying in a hostel with Ravid.  I had just bought my tent, and I wanted to use it.  I also wanted to save money – I think I saved something like $9 by sleeping in that thing.  Doing this trip cheaply, or cheaper, is really just a game for me, and I think, more than anything, that I want others to travel lots, and I want them to ask me ways to do it on thin budgets, and I want to smile and look them straight in the eye and tell them how, tell them yes and yes you can, and tell them from experience.
We slept in Sæberg 2 nights.  The following night was spent in Siglufjör
ð

ur,

set at the base of a fjord.  Try pronouncing that!  I slept in the car again.  We wanted to go to a seal sanctuary that day, but it was closed.  A lot of stuff was closed, because winter is approaching.  But this means, especially in the north, that you don't see many people.  This is so preferred.  
The next day, we drove through Akureyri, the "capital of the north" and the second-biggest city in Iceland, with something like 18,000 people.  I got some ice cream.  Eating ice cream with the enemy.  Huh Coach.
From there, nights were spent in Ytra Lón, Seyðisfjörður, Höfn, and Hvoll.  On my 21st, I partied in Surfer's Paradise, the "Vegas" of Australia.  I met two girls from Adelaide, Australia, that night.  In the hostel in Hvoll, as we were eating pasta (we ate pasta every night), one of them walked through the door. 
There was a beach, as well, with massive icebergs on the shore and in the water.  I'd never seen anything like it before.  That was one of my favorite parts of the roadie.
You'll probably notice that my creativity tails off a bit when I'm just journaling facts and chronology.  I like to write on more abstract topics.  For this roadie, one thing that really stood out was the people in the car.  I first wrote about this in a post discussing my Birthright trip.  It's becoming clear to me that when I spend extended time with people, regardless of who they are or where they're from (and assuming I don't irretrievably despise them for whatever reason), I like them.  I like them a lot.  A splatty and interjectional voice becomes downright hilarious.  Their snoring becomes lovable.  Maybe I'm strong when searching for the good in others.  Maybe it's just biology.  By the end of the roadie, we had all become real friends.  And in the context of my trip, this is a cherished find.
Before we close, let's describe non-Reykjavík Iceland.  It's bucolic, certainly.  Lots of farms.  Lots of tiny splashes of farms too, maybe just 3 or 4 at a time, sitting on the bank of a fjord or by the foot of a mountain.  It's quiet.  There's a road that revolves the whole island, the 1; that's what we drove.  There are towns along it, but they're small.   I think a town with 1,000 people would be one of the bigger ones in Iceland.  There's a lot of volcanic activity as well – remember the one that cancelled all of those flights in Europe?  There's lava – fields of lava with moss dusted atop, like powdered sugar on a chocolate cake.  There's lots of hot springs, and lots of fjords.  It didn't necessarily pack that garish beauty of Patagonia, at least for me, but had more of a tranquil, succinct attraction.  There were black sand beaches, icebergs, the aurora, light snow and the smell of sulfur.  Red barns and large black birds.  It was refreshing, like a cold Sprite is refreshing, and very clean.  Outdoor hot tubs are glorious, too.  I had a lot of fun.
I've many more topics on which to write, and I hope to fart them out sooner rather than later.  Thanks for reading, and know that I'm elated to be back on the road.  There's simply nothing better.
More live music and hot dogs tonight,
Will