In my previous article, I explained why it is preferable to camp outside of a city.  After a full day of cycling, all you want to do is sleep, and outside of the city, unlike inside, there's no crowd, no noise, and no fanfare.  Perfect.  However, when your brother is playing for a Men's Lacrosse National Title, city-camping becomes mandatory: there's no wifi in the woods.
On May 28th, 2013, the night of the NCAA Men's Lacrosse National Championship game – my brother's Duke Blue Devils vs. the Syracuse Orange – I pedaled into Giresun, Turkey.  On a normal night, I'd take dinner and cycle further, in search of cozy and hidden camping refuge outside of town.  However, this night was different: I had some lacrosse to watch.
After several failed attempts at securing wifi-included camping space – at a police station, a gas station, and a military facility, namely – I knocked on the door of an elementary school.  A man appeared, and invited me inside.  I explained my plight, with the now-routine help of Google Translate, and was warmly offered a spot on one of the lobby couches, as well as full use of the school's wifi.  Perfect.
Unfortunately, the wifi didn't work.  Next, the man ushered me upstairs to try one of the school's computers.  Still, nothing.  There had to be another way.  My determination was visible.
Next, our generous host simply invited me to sleep at his house.  The wifi worked there, he stressed.  I quickly accepted, in small part because he seemed trustworthy, and in large part because the game was about to start.  It's not every day that your brother plays for a National Championship.
Hurriedly, we wheeled my bike around the corner, up a few flights of stairs, and into his modest apartment.  Ten minutes until game time.  He then explained, again with Google Translate, that he did have wifi, but his oldest son was the sole owner of the password, and wasn't yet home.  If I wanted to stream the game, I'd have to do it from his youngest son's computer.  "That works," I motioned.
Five minutes until game time.  I'm sat in front of the computer.  The youngest son, 14 years old, sits down next to me.  He speaks no English, and I speak no Turkish.  He's never seen a lacrosse game before.  I explain to him the situation, and some of the basic rules.  Duke had a new, eager fan.  One minute until game time – myself and the son both glued to the computer screen.
Lets Go Duke.
The game was exciting.  Syracuse started off to a large, early lead, but Duke battled back.  The energy was high, and mine no different.  The mother, father, niece, and her young daughter were in the kitchen, calmly enjoying dinner.  I was in the other room, with the son, screaming at the top of my lungs.  They had no idea what I was saying, nor why I was yelling.  The son was very into it.  We'd jump, holler, and high-five after every goal.
Throughout the game, and in typical Turkish fashion, the mother carted me a multi-course meal.  Tea, meat, vegetables, salad, bread, and deserts.  The food never stops in Turkey.
In the end, Duke won.  I was elated.  The family, now thoroughly perplexed, needed an explanation.  I sat them down, opened up Google Translate, and explained.  My brother is #31.  He's been working for this all his life.  He just won a National Championship.
The family was rather excited, in fact.  They smiled, patted me on the back, and continued being Turkish.  More food that night, a warm shower, and a cozy bed.  And of course, a photography session with their endlessly adorable granddaughter.  Look at her!
Breakfast was served the next morning as well.
Once more, another unique, magnificent experience served up by the ever-fantastic Turkey.  That place is gold – a cycle tourist's dream.  Can't wait to see you again, my dear friend!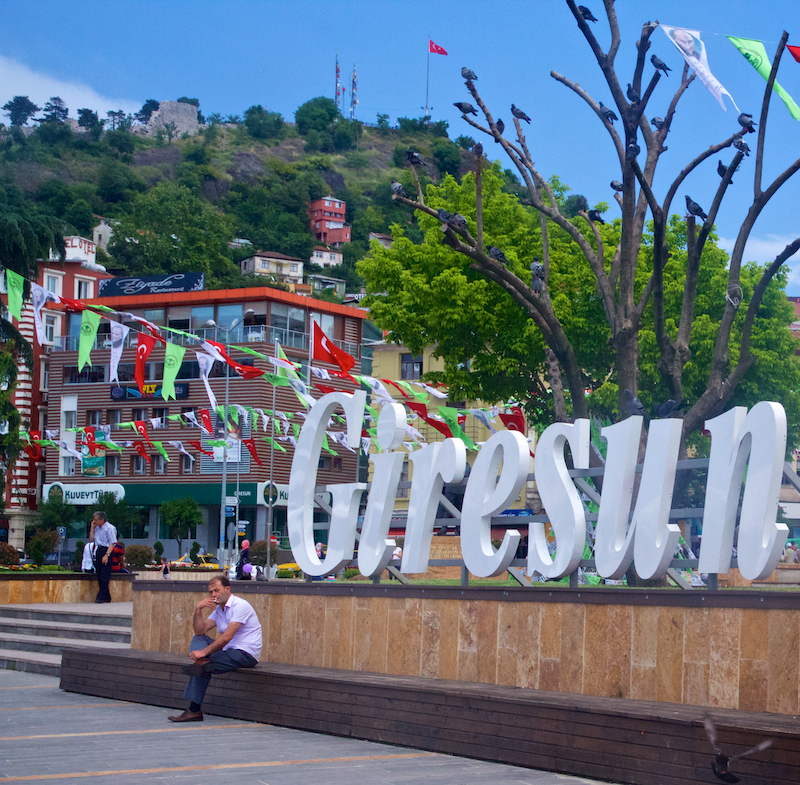 Congrats to Jordan,
Will